Due to Covid-19 safety restrictions PhoenixTS will temporarily be unable to provide food to our students who attend class at our Training Center; however, our Break Areas are currently open where students will find a constant supply of Coffee, Tea and Water. Students may bring their own lunch and snacks to eat in our breakrooms or at their seat in the classroom or eat out at one of the many nearby restaurants.
Course Overview
Phoenix TS CISSP course helps prepare participants for the Certified Information Systems Security Professional (CISSP) exam. This course focuses on ten areas of discipline determined by (ISC)². Professionals who complete this course will know how to manage these domains.
Our 5-day, instructor-led CISSP (Certified Information Systems Security Professional)training and certification boot camp in Washington, DC Metro, Tysons Corner, VA, Columbia, MD or Live Online is targeted toward managers, engineers, auditors and security professionals seeking to better their skills and learn about the latest technologies. Domains include: 
Access control
Telecommunications & network security
Information security governance & risk management
Software development security
Cryptography
Security architecture & design
Operations security
Business continuity & disaster recovery planning
Legal, regulations, investigations & compliance
Physical (environmental) security
This course will fully prepare you for the CISSP® Certification exam.
You must have at least five combined years of professional experience in two or more of the previously listed domains. Additionally, you should be familiar with TCP/IP and the UNIX, Linux and Windows operating systems. Though not required, it is also recommended that you have the CompTIA® Security+ Certification.
Schedule
Certified Information Systems Security Professional (CISSP) Certification Training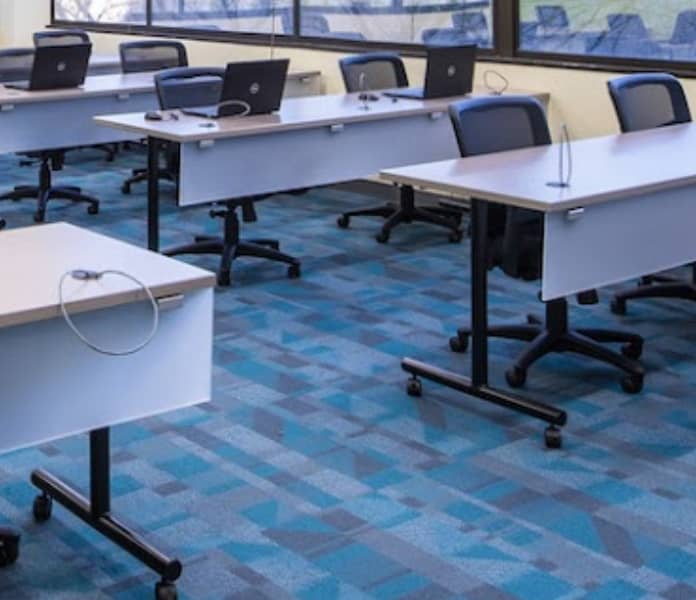 Not seeing a good fit?
Let us know. Our team of instructional designers, curriculum developers, and subject matter experts can create a custom course for you.
Course Outline
Security Governance Through Principles and Policies
Understand and apply concepts of confidentiality, integrity and availability
Evaluate and apply security governance principles
Develop, document, and implement security policy, standards, procedures, and guidelines
Understand and apply threat modeling concepts and methodologies
Apply risk-based management concepts
Personnel Security and Risk Management Concepts
Personnel security policies and procedures
Security governance
Understand and apply risk management concepts
Establish and maintain a security awareness, education and training program
Manage the security function
Business Continuity Planning
Planning for business continuity
Project scope and planning
Business impact assessment
Continuity planning
Plan approval and implementation
Laws Regulations and Compliance
Categories of laws
Laws
Compliance
Contracting and procurement
Protecting Security of Assets
Identify and classify assets
Determining ownership
Using security baselines
Cryptography and Symmetric Key Algorithms
Historical milestones in cryptography
Cryptographic basics
Modern cryptography
Symmetric cryptography
Cryptographic lifecycle
PKI and Cryptogrpahic Applications
Asymmetric cryptography
Hash functions
Digital signatures
Public Key Infrastructure
Asymmetric key management
Applied cryptography
Cryptographic attacks
Principles of Secrity Models, Design and Capabilities
Implement and manage engineering processes using secure design principles
Understand the fundamental concepts of security models
Select controls based on systems security requirements
Understand security capabilities of information systems
Security Vulnerabilities, Threats, and Countermeasures
Assess and mitigate security vulnerabilities
Client-based systems
Sever-based systems
Database systems security
Distributed systems and endpoint security
Internet of Things
Industrial control systems
Assess and mitigate vulnerabilities in web-based systems
Assess and mitigate vulnerabilities in mobile systems
Assess and mitigate vulnerabilities in embedded devices and cyber-physical systems
Essential security protection mechanisms
Common architecture flaws and security issues
Physical Security Requirements
Apply security principles to site and facility design
Implement site and facility security controls
Implement and manage physical security
Secure Network Architecture and Securing Network Components
OSI model
TCP/IP model
Converged protocols
Wireless networks
Secure network components
Cabling, wireless, topology, communications and transmission media technology
Secure Communications and Network Attacks
Network and protocol security mechanisms
Secure voice communications
Multimedia collaboration
Manage email security
Remote access security management
Virtual private network
Virtualization
Network address translation
Switching technologies
WAN technologies
Miscellaneous security control characteristics
Security boundaries
Prevent or mitigate network attacks
Managing Identity and Authentication
Controlling access to assets
Comparing identification and authentication
Implementing identity management
Managing the identity and access provisioning lifecycle provisioning
Controlling and Monitoring Access
Comparing access control models
Understanding access control attacks
Security Assessment and Testing
Building a security assessment and testing program
Performing vulnerability assessments
Testing your software
Implementing security management processes
Managing Security Operations
Applying security operations concepts
Securely provisioning resources
Managing configuration
Managing change
Managing patches and reducing vulnerabilities
Preventing and Responding to Incidents
Managing incident response
Implementing detective and preventative measures
Logging, monitoring and auditing
Disaster Recovery Planning
The nature of disaster
Understand system resilience and fault tolerance
Recovery strategy
Recovery plan development
Training, awareness and documentation
Testing and maintenance
Investigations and Ethics
Investigations
Major categories of computer crime
Ethics
Software Development Security
Introducing systems development controls
Establishing databases and data warehousing
Storing data and information
Understanding knowledge-based systems
Malicious Code and Application Attacks
Malicious code
Password attacks
Application attacks
Web application security
Reconnaissance attacks
Masquerading attacks
Exam Information
CISSP Certification Exam Details:
In order to take the CISSP certification exam, candidates must register with (ISC)2.
CISSP Exam Details
Number of Questions: 100-150
Test Duration: 3 Hours
Passing Score: 700 out of 1000 points
Test Format: Multiple choice
Test Delivery: (ISC)2
CISSP Certification Measures a Candidate's Knowledge in Each of these 8 Domains:
Security and Risk Management
Asset Security
Security Architecture and Engineering
Communication and Network Security
Identity and Access Management (IAM)
Security Assessment and Testing
Security Operations
Software Development Security
CISSP Certification Training FAQs
What is a CISSP Certification salary?
According to payscale.com, a professional with a CISSP Certification earns an average of $110,000 annually.
What are the requirements for CISSP Certification?
Passing the CISSP Certification exam is not the only step to earning your CISSP credential. Aspiring candidates must also have a minimum of five years cumulative paid work experience in two or more of the eight domains of the CISSP CBK, complete the endorsement process, agree to (ISC)²'s Code of Ethics and pay your first AMF.
How many CPE credits are needed to renew the CISSP Certification?
Candidates must earn 120 Continuing Professional Education (CPE) credits every 3 years to maintain the CISSP credential.
Who should take the CISSP Certification Training course?
This course is intended for IT security professionals with multiple years of experience in roles such as IT Consultants, Managers, Security Policy Writers, Privacy Officers, Information Security Officers, Network Administrators, Security Device Administrators or Security Engineers.
CISSP Certification Training Resources
Due to Covid-19 safety restrictions PhoenixTS will temporarily be unable to provide food to our students who attend class at our Training Center; however, our Break Areas are currently open where students will find a constant supply of Coffee, Tea and Water. Students may bring their own lunch and snacks to eat in our breakrooms or at their seat in the classroom or eat out at one of the many nearby restaurants.