< BLOG
Software Tools
Jira – The Godzilla of Team Support Tools!
July 1, 2020
Alex Walters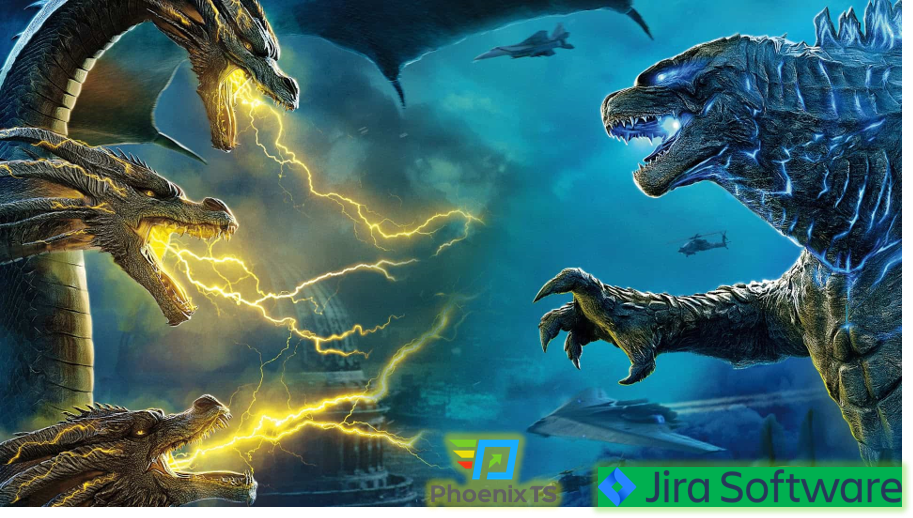 Atlassian's Jira is now bigger and better than ever! Once considered a complicated support tool, Jira is now a versatile group of products that can be used to perform diverse assignments in just about any environment. This issue tracking tool is also used to implement collaborative business efforts. Professionals can rely on Jira's many features and integrations to stay connected with their colleagues through every phase of their business tasks. Corporate teams can choose the Jira product that best suits the needs of their company. For instance, The Jira platform includes three product types: Jira Core, Jira Service Desk, and Jira Software.  Each application is equipped with features that are geared towards certain activity.
Jira Core is available to help teams manage their everyday tasks with the use of features such as workflows and project dashboard. Workflows display the development of an issue from beginning to end while project dashboards display performance information. Jira Service Desk helps professionals engage with their customers by troubleshooting issues and offering technical support. Lastly, Jira Software provides management tools for software development with popular agile delivery features such as Scrum. Therefore, whether you work in IT or Finance, Jira has a solution that is compatible with your needs.
Jira also has the capability to be integrated with other applications. One of these applications is Confluence. Companies are utilizing Jira and Confluence because pairing the software together means cutting down on delivery time and simplifying project management. Confluence is an interactive tool that allows teams to work together in one space on multiple projects. The integration supports cross team communication so members from every department in your company can view and manage documents from notes to blogs and reports. Users can also easily move back and forth between Jira and Confluence pages using templates to create new issues, set project requirements, and develop knowledge base pages to better assist customers.
Butler is another tool that can easily be integrated with Jira. This Trello tool allows users to schedule when tasks need to be completed. Butler will then automatically perform these tasks on a regular basis. With Jira, according to a Computerworld article, 'The new Jira integration allows users to automatically create new tasks, bugs and issues and post comments about existing Jira tickets directly from Trello through any of Butler's rules, buttons or command" (Trueman). These are just two apps that Jira can be integrated with. Users can also look forward to easy compatibility with various apps depending on their business needs. Furthermore, Jira is flexible for use. People have the option of using the Jira software cloud or self-managing with either the Jira server or data center.
There is no denying that Jira can help you increase productivity and success in your company. To understand more about Jira and successfully implement Jira products into your company you can gain training become a certified Jira professional. Jira has the following certifications you can chose from:
Jira User
Jira Project Administrator
Agile Team Leader
Jira Administrator
Confluence Administrator
Jira Service Desk Administrator.
In order to acquire one of these certifications, it is advised that you take training courses before taking the exam. If you're not quite sure which certification you would like to earn and are looking for training courses to learn more about Atlassian and Jira, Phoenix TS is offering the following courses:
The Jira and Confluence course at Phoenix TS is an introductory course for professionals looking to gain a better understanding and receive demonstrations on how to work with the software. The Advanced Jira course is for professionals who have prior knowledge and are prepared for a more hand on experience.

Visit phoenixts.com or call 240- 667-7757 and sign up for a class today.
Works Cited:
BoKapsys. "Why More Companies Are Starting to Prefer ATLASSIAN Jira Software?" BoKapsys, 2019, bokapsys.com/why-more-companies-starting-to-prefer-atlassian-Jira-software/.
"Certify Your Skills, Build Your Career." ATLASSIAN, 2020, www.atlassian.com/university/certification.
"Jira Software: Product Guides & Tutorials." ATLASSIAN, 2020, www.atlassian.com/software/Jira/guides/getting-started/overview#about-the-Jira-platform.
Trueman, Charlotte. "Trello Unveils Butler Integrations with Slack and Jira." COMPUTERWORLD, 2020, www.computerworld.com/article/3536623/trello-unveils-butler-integrations-with-slack-and-Jira.html.
"Use Jira Applications and Confluence Together." ATLASSIAN, 2020, confluence.atlassian.com/doc/use-Jira-applications-and-confluence-together-427623543.html.
Zurkowski, Michal. "Why You Should Be Using Jira and Confluence Together (And How To Do It Right)." DEVINITI, 2017, deviniti.com/atlassian/why-you-should-be-using-confluence-and-Jira-together-and-how-it-right/.
subscribe by email
Stay Ahead