< BLOG
Project Management
The FYI ABOUT PMP from PMI
January 22, 2021
Alex Walters
The Project Management Institute (PMI) has released the new Project Management Professional (PMP) exam. The new PMP exam changes went into effect on January 2, 2021. If you are a current PMP certification holder or if you are looking to obtain your certification, there is new information about the PMP that you need to know.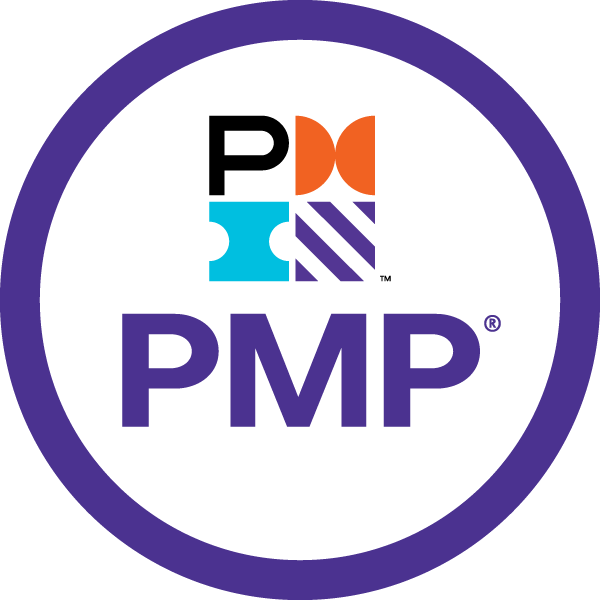 The Basics
A PMP certification demonstrates that you can lead a project team and achieve the goals of a project. Earning a PMP will give your career a boost because the PMP is widely recognized and respected among many different industries. (pmi.org -Project Management Institute) A PMP not only shows that you have the leadership and knowledge needed to manage projects, but it also shows that you have technical skills too making you more marketable to employers. (Verma, 2021) PMP certification holders can look forward to earning about $112,000 annually. According to PMI's Project Management Salary Survey, 10th ed. PMP credential holders reported earning 23% more than individuals without their PMP. ("PMP Certification Salary Impact 2020.")
Major Changes
The two major changes
The final date to take the old PMP exam was December 31, 2020. The old PMP was processed based and had five subject areas: Initiating, Planning, Executing, Monitoring & Controlling and Closing. The retired exam focused on the skills, knowledge and resources needed to complete tasks associated with each of these five process groups. Therefore, perspective PMP certification holders would be assessed on their ability to successfully execute a project based on their comprehension of task outlined in each area.
However, the scope of work for a project management professional has changed. Every three to five years, PMI conducts research to assess the nature of roles and responsibilities of a Project Manager and since the roles have evolved, then the exam must evolve too. ("The PMP® Exam Is Changing on 2 January 2021.")
Instead of focusing on the processes, the new PMP is Agile and Hybrid focused. About 50% of the questions will pertain to Agile and Hybrid approaches and the other 50% will be about predictive project management. ("The PMP® Exam Is Changing on 2 January 2021.") Additionally, there are now three domains instead of five process groups. The domains include: People, Process and Business Environment. The people domain will discuss how to manage the members of a project team. The process domain will discuss the technical skills involved in a project and the business environment domain will explain the link between the project and the goals of the organization. Each domain is consisting of specific tasks. The three domains on the new exam also hold more weight than the process groups on the old exam:
| | |
| --- | --- |
| Old PMP Exam | New PMP Exam |
| Initiating: 13% | People: 42% |
| Planning: 24% | Process: 50% |
| Executing: 31% | Business Environment: 8% |
| Monitoring and Controlling: 25% | |
| Closing: 7% | |
| Total: 100% | Total: 100% |
Exam Details
There are also some changes to the exam format. In the past there were 200 questions. The new exam has 180 questions. There are also less pretest questions. On the old exam there were 25 now there are just five. However, participants will still be scored on 175 questions. For a complete overview of exam details, see the table below.
| | |
| --- | --- |
| Duration: | 230 minutes |
| Number of Questions: | 180 questions |
| Scored Questions: | 175 questions |
| Pre-Test Questions | 5 pretest questions |
| Question Type: | Multiple choice |
| Exam Fee member: | $405.00 USD |
| Exam Fee Non member: | $555.00 USD |
How to Prepare?
To qualify to take the PMP exam, you must meet of the following sets of requirements:
A four-year degree
36 months of project management experience
35 hours of project management education or a CAPM certification
OR
A high school diploma or associate degree
60 months of project management experience
35 hours of Project management education or a CAPM certification
("Project Management Professional.")

Train with Phoenix TS
Phoenix TS offers PMI courses that you can choose to take based on your individual needs and where you are in your career.
If you are looking to become PMP certified, Phoenix TS offers a training bootcamp that will prepare you for the exam. The instructor led bootcamp includes lecture and activities based on the updated exam domains and the PMBOK book of knowledge which is a standard set of global guidelines and terminology used in project management. Additionally, you will have the opportunity to review your progress with exam-based practice questions and an exam simulation.
Phoenix also offers a CAPM (Certified Associate in Project Management) in case you need credit hours before pursuing your PMP.
Those just getting started with Project Management can look forward to taking the Introduction to Project Management course. This course helps beginners understand fundamental Project Management knowledge and how you can apply it in your career. Phoenix offers an IT Project Management (ITPM) course for IT professionals and a Project Management for the Office Professional course as well.
From more information visit phoenixts.com or call us at 301-258-8200 of Click Here
References:
Clayton, Mike. "PMP Exam Changes in January 2021: What Will Be Different?" OnlinePMCourses, 2019, https://onlinepmcourses.com/
"PMP Certification Salary Impact 2020." Certification Academy, Certification Academy, 2020, https://certificationacademy.com/
"Project Management Professional." Project Management Institute, Project Management Institute, Inc., www.pmi.org/certifications/project-management-
"The PMP® Exam Is Changing on 2 January 2021." PM PrepCast, OSP International, LLC. , www.project-management-prepcast.com/.
Verma, Eshna. "5 Advantages of PMP over MBA." Simpli Learn, Simplilearn Solutions, 15 Jan. 2021, www.simplilearn.com/pmp-advantages-over-mba-article.
subscribe by email
Stay Ahead
Related Posts
January 22, 2021

March 19, 2018