< BLOG
Live Online Training Classes
The Adobe Connect Way!
June 10, 2020
Alex Walters
Unfortunately, our world has been turned upside down by the COVID -19 outbreak. While many states have transitioned to reopening, social distancing is still being encouraged to prevent spikes in cases of the virus. Throughout this confusing time, society has stayed connected through the internet. People are using the internet to stay in touch with friends and family. Employees are relying on the internet for business engagements such as sending emails, hosting meetings and participating in virtual trainings. Virtual communication makes current restrictions easier and has shown many doubters the benefits of conducting business online. Phoenix TS is proud to say that we've been safely delivering online courses with Adobe Connect over the past six years!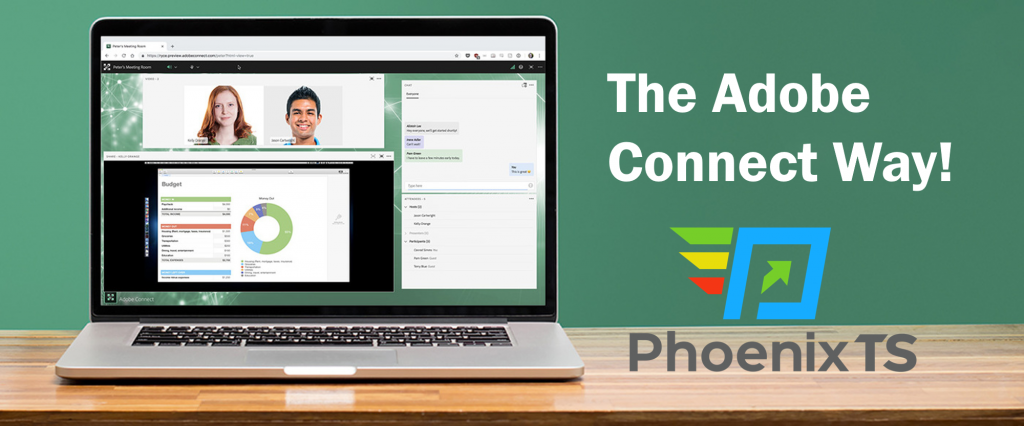 Phoenix TS chooses Adobe Connect because it is secure, customizable, engaging, powerful, and consistent. ("Best Virtual Classroom Software.") The security Adobe Connect has to offer is responsible for, "…Serving the most regulated industries running mission critical operations online with our Multilayered security approach" ("Best Virtual Classroom Software.") One reason that secure industries choose Adobe Connect is that the security is built into the platform. Phoenix TS, Director of IT Will Proctor can assure that. He stated, "Our clients are not able to download anything to join/access these virtual classes, which Adobe allows." Proctor added, "Adobe delivers big on the security side with their secure code design, secured connections and user interfaces and configuration settings that follow a Least Privilege Principle" model. This means that the host and only the Host has the control to not only determine who enters a meeting but also the assignment of role-based privileges to co-presenters and participants."
Adobe Connect is also customizable, allowing the user to create a layout that best fits their teaching techniques. Proctor agreed, "When you are in position to deliver virtual classes for a DoD customer, there are other items that will need to be considered when selecting the right tool for your audience, which is why we ultimately decided to go with Adobe Connect. Furthermore, Adobe Connect is 508 compliant. This means that features of the platform can be adapted to present to the visually and hearing impaired. Adobe Connect is a versatile and useful suite that incorporates the needs of everyone."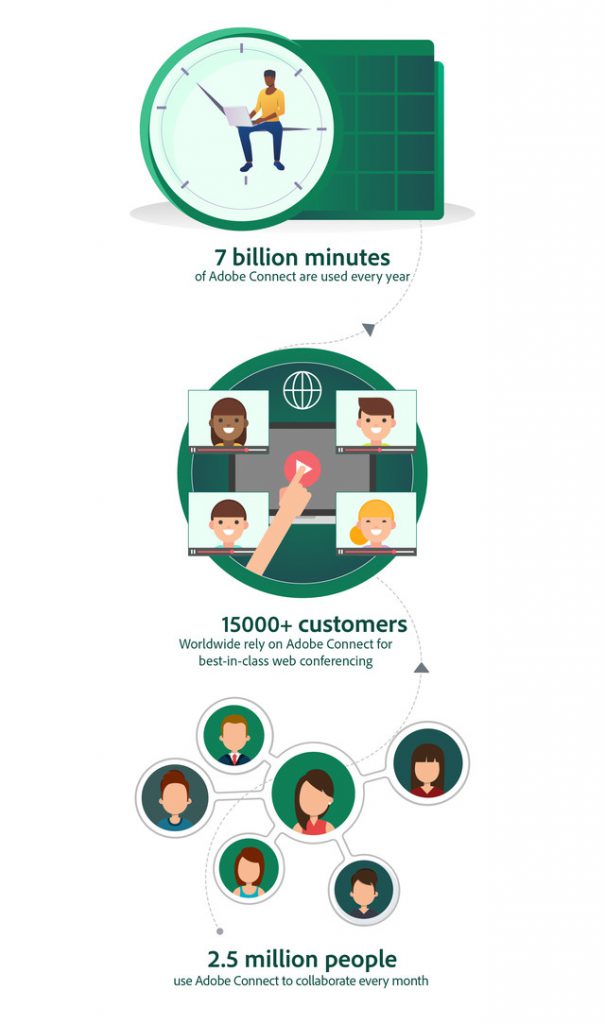 Phoenix TS also uses Adobe Connect because the platform can deliver fun and engaging virtual learning content. Virtual learning allows students to communicate with their instructor and each other using tools such as whiteboards, breakout rooms, polls and text – based chat. These elements do more than just provide the students with a lecture. They encourage students to participate by allowing them to share ideas, notes, and questions. According to an article titled, "Get and Keep Learners Engaged in a Virtual Classroom" by Jennifer Hoffman. Virtual learning tools, such as the tools Adobe Connect offers, have the ability to give students a deep learning experience. Hoffman describes that sharing information helps students encounter problems and develop problem-solving skills. She explains how serial engagement and concurrent engagement can be used in a virtual atmosphere. Serial engagement includes asking participants to share information one at a time. (Hoffman) Hoffman says this type of activity can work in virtual trainings with smaller groups. Concurrent engagement requires having all students participate at the same time which Hoffman says it better to use in virtual trainings.
Phoenix TS trainer Markus Lawrence has taught many virtual courses. He echoes the sentiments of Hoffman while he describes his experience using Adobe Connect to teach online classes, "Adobe connect has been a fantastic tool to use during virtual classes. I believe that the environment Adobe has created has provided a very close simulation to an in-person classroom atmosphere. Being able to utilize whiteboards as if in an actual classroom, the ability to set breakout groups the same way I could in an in-person class setting, as well as being able to mark and write on the PowerPoint slides provides a classroom ambiance like no other." Adobe Connect also allows you to attend virtual meetings and host webinars. To gain a visual understanding of how to use the aforementioned Adobe Connect virtual classroom tools, visit this webpage to check out a tutorial from Phoenix TS: https://www.youtube.com/watch?v=qsOHIxUYfyY&t=288s
All Phoenix TS instructors are skilled Adobe Connect facilitators. The IT Team at Phoenix TS equips instructors with practice sessions and training with their specific material the instructor. This ensures instructors can deliver quality virtual classes every time. So if you are looking to enhance your professional skills or need exam prep or certifications, contact Phoenix TS at phoenixts.com or call (240)667 – 7757 and sign up for a virtual class today!
References:
"Best Virtual Classroom Software." G2 Business Software and Services Reviews, G2, www.g2.com/categories/virtual-classroom.
Hoffman, Jennifer. "Get and Keep Learners Engaged in a Virtual Classroom." Learning Solutions, Learning Solutions, 3 Mar. 2020, learningsolutionsmag.com/articles/get-and-keep-learners-engaged-in-a-virtual-classroom
subscribe by email
Stay Ahead
Related Posts