< BLOG
Events
Come to Our Social for Free Drinks, Food and CEUs
March 28, 2014
Guest Author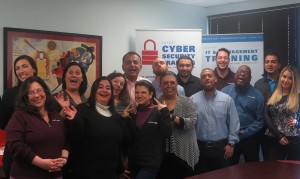 It's that time again for our annual social. On October 5th from 4:30-6:30 pm we'll host our annual Social at our headquarters in Columbia, MD. At this informal gathering, we provide free drinks, beer and wine. We'll also have food catered from our next door neighbor, Union Jack's British Pub. In addition to free food and drinks we will also have brief talk where you will be able to earn CEUs for a relevant certification
As an IT training company, we aim to supply our students with the right guidance, resources, IT training courses and certifications to enhance their knowledge and careers. That's why we're eager for IT professionals to come join us for good food, drinks, and great conversation.
Security Awareness with Claude Williams
The real value of this social isn't simply the opportunity to snag a few free drinks and food, but it's the opportunity to network and meet other IT professionals. Claude Williams, of CyNtell, will be giving a talk during the second half of the social on security awareness. His talk will focus on the human element of cybersecurity.
Use this social as a chance to gain Continuing Education Units (CEUs) for renewing your CompTIA certifications for CASP, Security+, Network+, and A+. Also, you can gain CPEs for CISSP, SSCP, CCFP for ISC2 certifications.
iPad Mini Giveaways
We will have two drawings during the event to give away iPad minis. One drawing will involve selecting a survey collected at the event. Only attendees who register and join us for the event will be entered into the second drawing. You must be present at the time of the drawing to be eligible to receive the iPad mini if your name is selected.
subscribe by email
Stay Ahead