< BLOG
Events
Phoenix TS 2017 Annual Social Recap
October 26, 2017
Guest Author
On October 5, 2017 Phoenix TS hosted our annual social. The annual social is our way to say THANK YOU to our customers, students, and community members who make Phoenix TS so great! We missed seeing a lot of faces, so in case you couldn't make it to the event, here's the quick Phoenix TS Social recap.
Social Recap: An Evening of Fun, Food, and Security Awareness
The drinks were flowing– beer, wine, and more. The food was plentiful — we had our spread catered by Zoe's Kitchen (try it sometime, it is amazing!). And our kitchen and lobby were teeming with people from all corners of the IT landscape. Some guest came for the food and networking, others came to earn CEU's.
Security Awareness: The Human Element of Cyber Security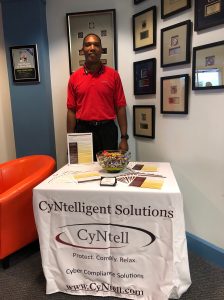 Like our previous socials this most recent social had a theme, the theme was Security Awareness. With October being National Cyber Security Awareness Month the theme of the Phoenix TS social fit perfectly for the month of October. To address the theme within the setting of the social we held a brief presentation run by Claude Williams of CyNtelligent Solutions, titled "The Human Element of Cyber Security." This presentation allowed for attendees to earn 1 Continuing Education Unit (CEU), but even if the guest was not at the social to earn a CEU, they learned valuable information nonetheless.
"The Human Element of Cyber Security" discussed, through fine details and personal accounts, by Mr. Williams, how common and simple errors made by humans could bring down an entire organization. From the classic using "password" as your password, or assigning admin rights to everyone because someone couldn't be bothered to differentiate between users, it was amazing to see how much a human could do to disrupt an entire organization's cyber security.
The Missing Piece: You
While we had quite a few (over 100!) Phoenix TS friends RSVP to the social earlier in the month, not everyone was able to show up. We have spoken with those who were present, those who RSVP's but weren't able to come and now we want to hear from you! You input will help us plan bigger and better socials in the future!


subscribe by email
Stay Ahead
Related Posts
December 13, 2019

October 26, 2018

August 27, 2018