< BLOG
Cyber Security
What Is CEH Certification?
August 25, 2017
Guest Author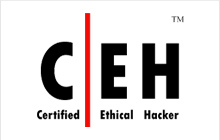 Certified Ethical Hacker (CEH) is a certification offered by EC-Council to validate a cybersecurity professional's knowledge and skills as a "White Hat" or ethical hacker. Named No. 2 on Toms IT Pro list of "Best Information Security Certifications for 2017" CEH certification is among the most sought-after certifications an InfoSec professional can earn for their skills in ethical hacking.
What is an Ethical Hacker?
Ethical hackers are professionals who have the same knowledge and skills as a criminal hacker. However, the ethical hacker uses these skills to invade a computer network in order to test and determine weaknesses within the network. This purposeful invasion of the computer network is called penetration testing. Penetration testing is necessary in a world with growing cybersecurity threats. The ethical hackers who perform pen-tests are able to identify weaknesses before they can be exploited by cyber criminals. But an ethical hacker doesn't only perform penetration testing, they may use a variety of methods in order to gain access to a computer network.
But How Can Hacking Be Ethical?
If you are considering earning your CEH certification, you need to make sure that you know how to ensure the hacking you are performing is deemed ethical. These four steps will start you on the right foot if you engage in ethical hacking.
Expressed consent- preferably in writing
Respect for the organization or individual's privacy
Leave no "doors" open– once you have finished working (even if it is for the day) make sure you have not left anything open so that someone with criminal intent can get into the network easily
Inform the necessary people of the vulnerabilities you found
Following the four steps listed above will ensure that you have followed the necessary precautions for an ethical hacker. If the "White Hat" hacker does not follow these steps the manner in which the enter and expose weaknesses within a computer network may be seen as criminal. Which is exactly what happened to a young Hungarian "White Hat" hacker when he alerted the public transportation to a flaw in their ticket purchasing website in summer 2017.
Who Can Earn CEH Certification?
ANYONE! While the EC-Council CEH certification was designed for information security professionals, any person wanting to improve their network security can earn the certification. Professionals who most commonly earn CEH certification hold the job title of:
Security Officers
IT Auditor
Network Security Specialist
Site Administrators
IT Security Specialist
What is the Benefit of Being Certified?
Earning CEH certification means that you have entered a respected and recognizable group of cybersecurity professionals who have the ability to successfully penetrate a computer network in order to better secure the network. Earning your CEH certification will open doors in a variety of sectors, commercial, government, and private; due to your established commitment to better security. EC-Council's CEH certification is supported by government organizations such as the NSA, DoD and CNSS. In recent years, large companies have begun employing "White Hats" and pen-testers within their own organizations in order to keep pace with cybersecurity trends. If that isn't enough, salaries for someone with the CEH can be as high as $125K annually if you prove you've got the "right stuff."
Earning CEH Certification
There are two options for earning CEH certification:
1) Attend an approved training course
It is possible to earn CEH certification without any prior knowledge or skills in the InfoSec industry. However, you will be required to take an approved training course before you are able to sit for the CEH exam and receive CEH certification.
2) Attempt the exam without training
If you are considering earning your CEH certification without taking an approved training course you must earn approval from EC-Council. This approval process begins by filling out the Eligibility Application to validate that you have at least 2 years of experience in information security. If you have been approved to sit the exam you will have 3 months to purchase an exam voucher that will be usable for up to 1-year after purchase.
subscribe by email
Stay Ahead
Related Posts
February 7, 2023

January 24, 2022

December 13, 2021