< BLOG
Cyber Security
DoD 8140: How Does It Affect You?
July 17, 2017
Guest Author
In August 2015, the Department of Defense signed into effect DoD 8140 Cyberspace Workforce Management Policy. This directive immediately replaced the DoD 8570 directive, or did it?
DoD 8140: The Breakdown
DoD 8140 has been in effect for the better part of two years. However, the Department of Defense has yet to create a manual that outlines the specifics of the new directive. In order to rectify the lack of 8140 manual, the directive states that personnel will continue following DoD 8570.01M.
You may wonder if there is not a DoD 8140 manual, why did the Department of Defense issue the new directive? DoD 8140 aligns to allow inclusion of  the existing policies of the National Cybersecurity Workforce Framework (NCWF) designed by the National Initiative for Cybersecurity Education (NICE). The NCWF defines the most common jobs in cybersecurity into the functions, duties, and responsibilities. NCWF contains 7 specialty areas:
Analyze
Collect and Operate
Investigate
Operate and Maintain
Oversight and Development
Protect and Defend
Securely Provision.

Therefore, DoD 8140 assures that personnel in the cybersecurity workforce have the necessary hands-on knowledge for their job functions, in addition to the relevant certifications. The new directive expands and updates the existing policies of the current DoD cybersecurity workforce. Further defining the policies and responsibilities of personnel in the Department of Defense Information Assurance cybersecurity workforce.
Hard Requirements of DoD 8140
Certification is necessary for the following:
All personnel performing IAT and IAM functions
All personnel performing CSSP and IASAE roles
Personnel categorized as 'Technical' or 'Management' level I, II, or III
EXACTLY Who Are These Personnel?
All part or full-time military service members, contractors, and civilians with privileged access to DoD information systems
Office of the Secretary of Defense
Military Departments
Chairman of the Joint Chiefs of Staff
Combatant Commands
Office of the Inspector General of the DoD
Defense Agencies
All other organizational entities in the DoD
What Kind of Certification Will You Need?
All people mentioned in the list above fall into different categories and levels; therefore, their certification needs will vary. However, no matter what level, all personnel must have the baseline approved certifications.
Although we don't know what the exact manual will look like at this point we do know that DoD 8140 will have at least two categories: Information Assurance Technical (IAT) and Information Assurance Management (IAM). It is rumored that there will still be three levels like 8570.01M and that they will be reclassified with level I being renamed as apprentice. The current manual 8570.01M is divided into three categories: IA Technical, IA Management, and IA System Architecture and Engineering, with three levels I, II, and III. The chart below outlines the baseline approved certifications under 8570.01M.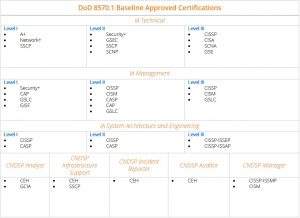 subscribe by email
Stay Ahead
Related Posts
February 7, 2023

January 24, 2022

December 13, 2021