< BLOG
Training and Certification
What is ITIL® Training?
June 26, 2013
Ashley Neu
ITIL Definition
Information Technology Infrastructure Library (ITIL) is the world's most generally accepted method of IT Service Management. It allows businesses to effectively pinpoint, develop, supply and maintain the IT services that they use.
History of ITIL
Back in the 1980s, the British government felt it needed better, higher quality IT services. So, it put the Central Computer and Telecommunications Agency (CCTA) in charge of constructing something better, more cost-effective, and more resourceful.
That was when the first version of ITIL was created, originally under the name Government Information Technology Infrastructure Management, or GITIM, since it was developed for the British government.
Soon, several large companies in Europe and the United States began to catch on and implemented ITIL for both government and business use.
In 2000, Microsoft used ITIL as a basis to create Microsoft Operations Framework (MOF), which is its own set of guidelines for IT professionals.
With 2001 came version 2, and over the next few years, ITIL become the most widely accepted IT Service Management framework in the world. Also in that year, two books –Service Support and Service Delivery – were reworked and made more readable and easier to understand, lending themselves to a more business-focused version that was published in 2007.
Most recently, in 2011, ITIL underwent a few updates and bug fixes for better, smoother operation.
IT Services Themselves
Before getting into the benefits of ITIL Training, it might be helpful to understand more about IT services themselves, as well as how to spot a bad one.
Nearly every business nowadays uses IT services. Payroll is a classic example, but there are others. Wal-Mart, for example, uses IT to notify managers when products on the shelves are running low. Managers will then use IT to reroute delivery trucks to the store that needs whatever is on that truck.
And how do you think managers know what supplies are on which truck? You guessed it – an IT service.
Since we are surrounded by all these IT services and relying on them to help run business, how do we know if we are using them correctly?
The following are some ways to spot poor IT service management:
IT services are being used for technology's sake and not for practical business use
Many issues arise with the IT service and takes longer than expected to fix
It is hard to tell what IT services exist and why
But just as there is lightness to darkness, there are also ways to tell if your IT services are being used properly:
The business has a close, trustworthy relationship with its IT service providers
Business needs are at the forefront of each IT service being used
Everyone is kept informed and issues are fixed quickly when they occur
Benefits of ITIL
So let's say you're experiencing some problems with your IT services. Well, ITIL can help.
In addition to general improvement of IT services, implementing ITIL will provide your business with a slew of other benefits, too. One is that IT can proactively suggest business solutions through ITIL use. ITIL can provide IT the opportunities to learn and predict what your business needs, and thus make recommendations for IT services that may be useful.
Meeting customer expectations also becomes easier because ITIL makes the flow of business more predictable and reliable. To go back to the Wal-Mart example, seeing what customers are buying, when they are buying it, and how much of it they are buying allows a store to prepare for seasonal influxes of business and facilitate customers' wants and desires.
Overall effectiveness also increases with the use of ITIL. Measuring typical, repeated processes allows you to better prepare for and serve them in the future.
Other benefits include reduction in costs, improved productivity, better use of assets, and a more proficient approach to IT service management leading to increased customer satisfaction.
ITIL Training
As we've seen, ITIL is such an important part of IT management, and there are several different facets of it. ITIL training includes courses on ITIL Foundation, ITIL Capability, ITIL Lifecycle, and ITIL Capstone which in themselves have different aspects.
But don't get overwhelmed. The ITIL Qualification process is divided into five levels to help you achieve your goals.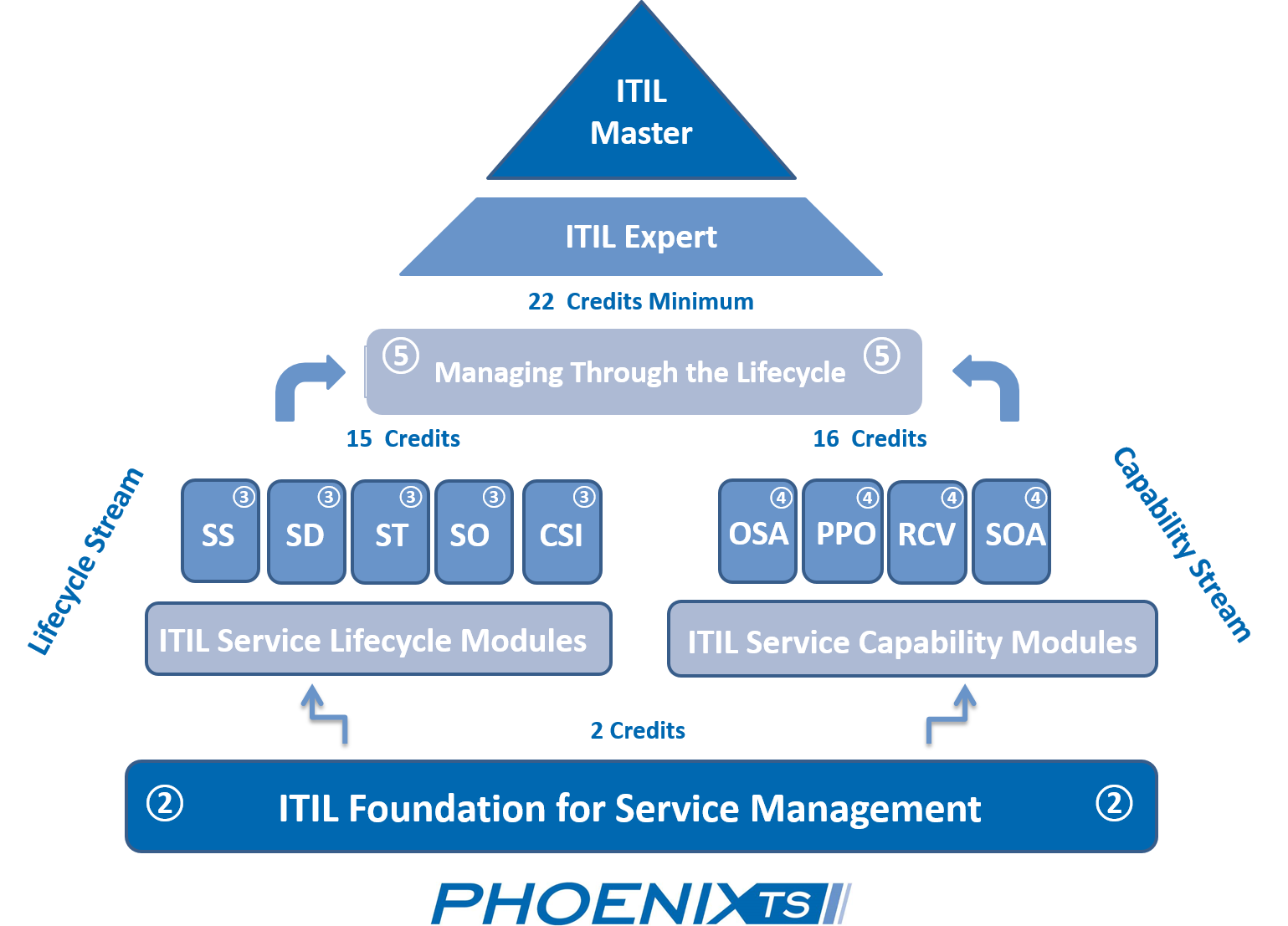 "Copyright © AXELOS Limited 2011. All rights reserved. Material is reproduced under
licence from AXELOS"
The entry level is ITIL Foundation which provides you with a basic understanding of concepts and terminology used in ITIL Lifecycle. This level is for those who desire a general understanding of ITIL to help their business with IT service management.
ITIL Foundation is also the prerequisite for the more detailed ITIL Intermediate level. You can receive training in either ITIL Lifecycle or ITIL Capability, or a combination of the two. Each has its own set of qualifications. You may take as many or as few as you like.
ITIL Lifecycle is for a broader, more management-focused understanding:
Service Strategy
Service Design
Service Transition
Service Operation
Continual Service Improvement
ITIL Capability is for a more specialized, process-oriented focus:
Service Offerings and Agreements
Release, Control and Validation
Operational Support and Analysis
Planning, Protection and Optimization
After successful completion of the Intermediate level, you can move onto the capstone qualification, ITIL Managing Across the Lifecycle (MALC). The idea is to bring you from a general understanding to hands-on practical application.
Next, you can continue to the ITIL Expert level, where you will obtain superior knowledge and skills. There are several areas in which to qualify, allowing you to select which skills best meet your specific needs.
The last step is the ITIL Master level. Because your specific goals will vary greatly from someone else's, it is hard to pinpoint your exact learning plan, but after receiving the Master Qualification you will be able to apply all the concepts and processes of ITIL to your workplace.
Important to note, before you reach this Master level, you must have worked in IT service management for at least five years.
This five-level structure of ITIL training helps you figure out the best route to take on your journey to ITIL qualification. Selecting which type of ITIL training best suits you is easy; it simply depends on which skills will be the most beneficial to you and your organization.
subscribe by email
Stay Ahead
Related Posts