< BLOG
Training and Certification
What is a PDU and Why You Need Them for PMI Certifications
January 12, 2016
Ashley Neu
Professional Development Units (PDUs) are needed to keep you PMI certification up-to-date. One PDU is equivalent to a 1-hour credit of project management training. Each PMI Certification has a specified amount of PDUs that are necessary to earn in order to keep you certification up-to-date and valid.
What is a PDU?
As mentioned, PDUs are essentially training credits. PMI created a program that mandates professionals to earn these training credits within a specific time frame in order to keep their certification valid.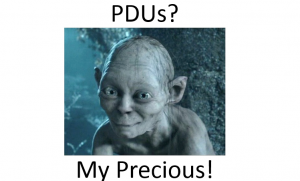 Every PMI Certification has different amounts of PDUs that need to be earned. Here is a list of PMI Certifications and their PDU amount.
PMP = 60 PDUs
PgMP = 60 PDUs
PMI-SP = 30 PDUs
PMI-RMP = 30 PDUs
CAPM = N/A
Now that you know how many PDUs you need to earn you need to know how long you have to earn them before your certification is suspended, or terminated.
How Long Are PMI Certifications Valid?
Your Certification is valid for three years. This means that you have three years to earn your allotted amount of PDUs that are relevant to your specific certification. For example, if you have a PgMP certification, now you need to earn 60PDUs before the end of your three-year period, which begins the day you earn your certification.
However, if you do not earn the 60 PDUs before the end of your three years, then your certification is suspended. Your certification will be suspended for one year, or however long it takes you to earn the rest of your PDUs. If for some reason you do not earn enough PDUs during that year suspension time, you will lose your certification. You will have to retest to earn a brand new PMI certification.
So now you know what a PDU is and how to earn them. That's great, right? So far everything sounds easy, but how do you earn those precious PDU though?
How to earn a PDU?
Some people claim that professionals may shy away from PMI certifications because the cost of keeping the certification. This is simply untrue. There are many ways you can earn PDUs. You can volunteer your services, listen to podcasts, and even write a blog post. For a full list of ways to earn PDUs just click the link and it will bring you to PMI's website to give you all the information you need.
Document every PDU
Last, but not least you need to document your PDUs. As awesome as it would be to not have to do this, you do.
PMI will not just take your word for it when it comes to earning PDUs. To keep your certification valid you need to document your PDUs through PMI. It is a fairly simple process, but a step that most people forget to do.
It is best if you document when you acquire new PDUs as soon as you earn them. This way you are not trying to file all of your PDU documentation the day before your three year time period ends. If you do try to do that you may forget what you have actually done and leave some PDU credits unaccounted for. That would be unfortunate and would leave you scrambling around, last minute, trying to meet your certification's continuation credentials.
subscribe by email
Stay Ahead
Related Posts