< BLOG
Training and Certification
CCNA vs CompTIA Network+: Which Should I Get?
March 4, 2019
Ashley Neu

[This post was originally published on 12/10/2015 and last updated on 3/4/2019]
There are numerous discussion boards out there all posing the same question:
CCNA or Network+ – Which one should I get?
Here is our breakdown of what each certification is, and why you would (or wouldn't) want to pursue it.
Why You Should Get CompTIA Network+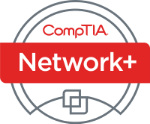 Network+ is backed by the Computing Technology Industry Association (CompTIA). According to the CompTIA website:
"CompTIA Network+ is a vendor neutral networking certification that is trusted around the world. It validates the essential knowledge and skills needed to confidently design, configure, manage and troubleshoot any wired and wireless devices. CompTIA Network+ certified individuals are in-demand worldwide."
The Network+ certification provides a great foundation of knowledge in the world of networking, but many professional view it only as a stepping stone for the inexperienced into a networking career. Here are a few reasons why you choose Network+ over CCNA:
No prior networking work experience
Looking for work at a help desk
Have some prior knowledge of networking but need to expand skills
If you can agree to all or some of these points, then Network+ may be the right certification for you to focus on.
There are several different ways to study for Network+. Check out several of the main resources to study for CompTIA Network+ exam.
Why You Should Get CCNA
CCNA Routing and Switching is a Cisco-specific networking certification. While it is still considered a beginner-level certification, most professionals consider it to be significantly more challenging than the CompTIA Network+ exam.

This exam goes into much more in-depth topics compared to the foundational knowledge of Network+. This is one reason why hiring managers tend to value the CCNA over Network+. Here are two reasons why you may consider CCNA over Network+:
You already have a few years of networking experience
You want to advance your career in a networking position
But what if my job doesn't use Cisco technologies?
CCNA could still be the right option. Cisco certifications are well respected throughout the industry, and your potential employer will appreciate the skill and knowledge necessary to achieve the certification. The skills necessary to pass CCNA are transferable to other technologies.
In addition, Cisco holds over 50% market penetrations of its technologies. So finding a job that utilizes these tools won't be too hard to find.
subscribe by email
Stay Ahead
Related Posts