Infographics
This inforgraphic compares two of today's most talked about Linux-based mobile devices that are available. Use this inforgraphic to determine which phone is the best alternative to Android or Apple for you.
This infographic was based on a Ponemon study on the data breaches faced by healthcare organizations over the last two years. View our infographic to see their findings on the top causes of data breaches and the costs associated with each breach faced by the healthcare industry
In 2015, CompTIA and IDC Research completed a study to determine the value hiring managers place on IT certifications. View our infographic to see their findings and learn how certification can help you land the job of your dreams.
In 2015 we compared the average salaries that various security certifications demand and compiled a list of the top 5 most lucrative industry-accepted certifications for the cyber security field.
In 2013 we studied the average salaries for computer-related occupations in relation to each state's estimated cost of living. Afterwards, we compiled a breakdown of where your best chances of landing an IT job and living well in the United States were. So here it is and the results may surprise you!2010 Top 7 IT Certifications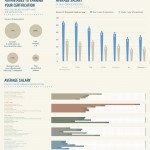 Ever wonder which certifications pay the most? We did too! That's why we investigated the top IT certifications to find out which ones allowed the holder to demand a higher salary and therefore attain a better return on their training investment.