Course Overview
Phoenix TS' 5-day instructor-led Microsoft Windows Client training and certification boot camp in Washington, DC Metro, Tysons Corner, VA, Columbia, MD or Live Online teaches students learn how to support and configure Windows desktops in an organizational environment. Students will develop skills that include learning how to install, customize, and update Windows 10 and later operating systems. Students will learn how to managing storage, files, and devices as well as how to configure network connectivity for Windows 10. Students will also learn how to secure the Windows client OS and protect the data on the device. Finally, students will learn how to manage and troubleshoot Windows clients.
After the course, students will learn how to:
Install and customize Windows clients
Configure Updates for Windows.
Configure devices and drivers for Windows.
Configure storage for Windows.
Configure network and remote management settings in Windows.
Configure and manage browsers and applications in Windows.
Configure account access and authentication.
Configure file and folder permissions.
Describe methods for securing Windows clien, common threats and methods for mitigating against them.
Troubleshoot Windows and application installations.
Troubleshoot hardware and driver issues.
Troubleshoot file issues and perform recoveries.
Schedule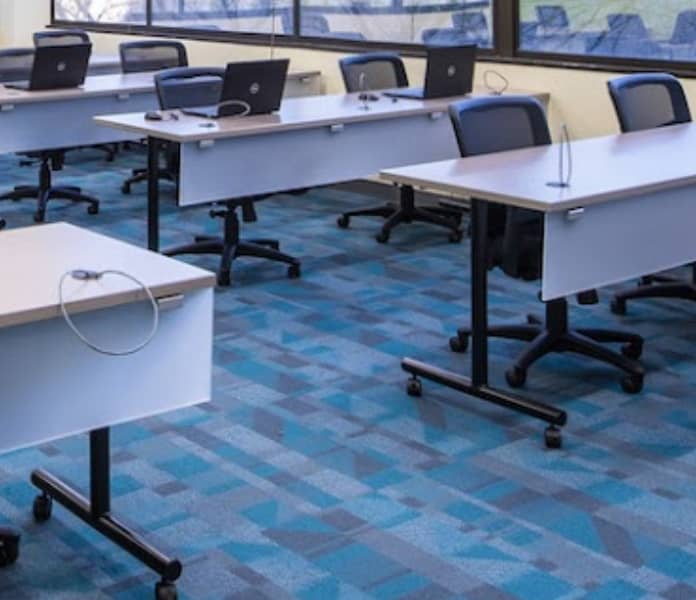 Not seeing a good fit?
Let us know. Our team of instructional designers, curriculum developers, and subject matter experts can create a custom course for you.
Candidates must be familiar with Microsoft 365 workloads and must be proficient and experienced in deploying, configuring, and maintaining Windows Client and non-Windows devices and technologies.
MS-100: Microsoft 365 Identity and Services
| | |
| --- | --- |
| Deploy Windows | 15-20% |
| Manage devices and data | 25-30% |
| Configure storage and connectivity | 15-20% |
| Maintain Windows | 30-35% |
You can purchase the exam voucher separately through Phoenix TS. Phoenix TS is an authorized testing center for Pearson VUE and Prometric websites. Register for exams by calling us or visiting the Pearson VUE and Prometric websites.
5 Days
Price
$2,995
Course Outline
Module 1: Installing Windows
Introducing Windows Client
Windows Client Editions and Requirements
Installation Methods
Upgrading and Migrating Windows Clients
Deployment Methods
Lab : Deploying Windows using Windows ADK tools
Lab : Migrating User Settings using USMT
Module 2: Configuring Authorization & Authentication
Authentication
Managing Users and Groups
Configuring User Account Control
Implementing Device Registration
Lab : Managing Local User and Microsoft Account Authentication
Lab : Managing Domain Authentication
Lab : Managing password and account options
Lab : Managing Azure AD Authentication
Module 3: Post-installation Configuration and Personalization
Configure and Customize the Windows Start Menu
Common Configuration Options
Advanced Configuration Methods
Managing Drivers and Devices
Lab : Managing Windows 10 Settings
Lab : Synchronizing settings between devices
Lab : Managing local and network printers
Module 4: Updating Windows
Windows Servicing Model
Updating Windows
Lab : Managing Windows Update Settings
Module 5: Configuring Networking
Configure IP Network Connectivity
Implement Name Resolution
Implement Wireless Network Connectivity
Remote Access Overview
Remote Management
Lab : Configuring Network Connectivity
Lab : Configuring and Testing Name Resolution
Lab : Administering Windows 10 Using Remote Management
Module 6: Configuring Storage
Managing Storage
Managing Disks and Volumes
Managing Storage Spaces
Lab : Managing Storage
Lab : Creating a Storage Space
Module 7: Configuring Data Access and Usage
Overview of File Systems
Configuring and Managing File Access
Configuring and Managing Shared Folders
Managing User Files
Lab : Configuring and Managing Permissions and Shares
Lab : Using Conditions to Control Access and Effective Permissions
Lab : Work Folders
Lab : Synchronizing files with OneDrive
Module 8: Managing Apps in Windows Client
Providing Apps to Users
Managing Universal Windows Apps
Managing the Microsoft Edge Browser
Lab : Installing Apps in Windows 10
Lab : Configuring Microsoft Edge to support Internet Explorer 
Module 9: Configuring Threat Protection and Advanced Security
Malware and Threat Protection
Microsoft Defender
Connection Security Rules
Advanced Protection Methods
Lab : Configuring Microsoft Defender Antivirus and Windows Security
Lab : Configuring Firewall and Connection Security
Lab : Configuring BitLocker
Module 10: Supporting the Windows Client Environment
Windows Architecture
Support and Diagnostic Tools
Monitoring and Troubleshooting Computer Performance
Lab : Monitoring Events
Lab : Monitoring Reliability and Performance
Module 11: Troubleshooting Files & Applications
File Recovery in Windows
Application Troubleshooting
Lab : Using File History to Recover Files
Module 12: Troubleshooting the OS
Troubleshooting Windows Startup
Troubleshooting Operating System Service Issues
Lab : Using Advanced Startup and Windows RE to recover from Boot Failures
Lab : Recovering Windows using Reset This PC
Module 13: Troubleshooting Hardware and Drivers
Troubleshooting Device Driver Failures
Overview of Hardware Troubleshooting
Troubleshooting Physical Failures
Lab : Recovering Windows by using a Restore Point
Lab : Troubleshooting Hardware by Using Windows Memory Diagnostics