Course Overview
This 10-day MCSA Windows Server 2016 Boot Camp training supplies individuals with the fundamental knowledge of Windows Server 2016 to prepare them to earn their MCSA Windows Server 2016 certification. This training encompasses content from these courses:
20740: Install, Storage, & Compute with Windows Server 2016
This training covers the management of storage and compute with Windows Server 2016. Students learn to understand the scenarios, requirements, and storage and compute options available and applicable to
Windows Server 2016. Topics include:
Prepare and install Nano Server, a Server Core installation, and plan a server upgrade and migration strategy
Describe the various storage options, including partition table formats, basic and dynamic disks, file systems, virtual hard disks, and drive hardware, and explain how to manage disks and volumes
Describe enterprise storage solutions, and select the appropriate solution for a given situation
Implement and manage Storage Spaces and Data Deduplication
Install and configure Microsoft Hyper-V, and configure virtual machines
Deploy, configure, and manage Windows and Hyper-V containers
Describe the high availability and disaster recovery technologies in Windows Server 2016
Plan, create, and manage a failover cluster
Implement failover clustering for Hyper-V virtual machines
Configure a Network Load Balancing (NLB) cluster, and plan for an NLB implementation
Create and manage deployment images
Manage, monitor, and maintain virtual machine installations
20741: Networking with Windows Server 2016
This training reviews networking skills necessary to thrive with Windows Server 2016, including:
Plan and implement an IPv4 network
Implement Dynamic Host Configuration Protocol (DHCP)
Implement IPv6
Implement Domain Name System (DNS)
Implement and manage IP address management (IPAM)
Plan for remote access
Implement DirectAccess
Implement virtual private networks (VPNs)
Implement networking for branch offices
Configure advanced networking features
Implement Software Defined Networking
20742: Identity with Windows Server 2016
This training teaches IT professionals how to deploy and configure Active Directory Domain Services (AD DS) in a distributed environment, how to implement Group Policy, how to perform backup and restore, and how to monitor and troubleshoot Active Directory-related issues with Windows Server 2016. Topics include:
Install and configure domain controllers
Manage objects in AD DS by using graphical tools and Windows PowerShell
Implement AD DS in complex environments
Implement AD DS sites, and configure and manage replication
Implement and manage Group Policy Objects (GPOs)
Manage user settings by using GPOs
Secure AD DS and user accounts
Implement and manage a certificate authority (CA) hierarchy with AD CS
Deploy and manage certificates
Implement and administer AD FS
Implement and administer Active Directory Rights Management Services (AD RMS)
Implement synchronization between AD DS and Azure AD
Monitor, troubleshoot, and establish business continuity for AD DS services
Schedule
Currently, there are no public classes scheduled. Please contact a Phoenix TS Training Consultant to discuss hosting a private class at 240-667-7757.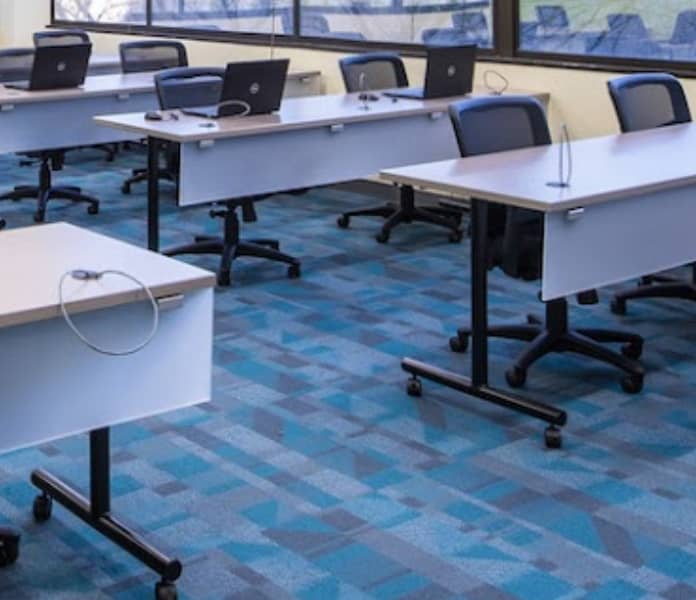 Not seeing a good fit?
Let us know. Our team of instructional designers, curriculum developers, and subject matter experts can create a custom course for you.
Course Outline
20740: Installation, Storage, and Compute with Windows Server 2016
Installing, Upgrading, and Migrating Servers and Workloads
Introducing Windows Server 2016
Preparing and installing Nano Server and Server Core
Preparing for upgrades and migrations
Migrating server roles and workloads
Windows Server activation models
Lab: Installing and configuring Nano Server
Configuring Local Storage
Managing disks in Windows Server 2016
Managing volumes in Windows Server 2016
Lab: Managing disks and volumes in Windows Server 2016
Implementing Enterprise Storage Solutions
Overview of direct-attached storage, network-attached storage, and storage area networks
Comparing Fibre Channel, iSCSI, and FCoE
Understanding iSNS, data centre bridging, and MPIO
Configuring sharing in Windows Server 2016
Lab: Planning and configuring storage technologies and components
Implementing Storage Spaces and Data Deduplication
Implementing Storage Spaces
Managing Storage Spaces
Implementing Data Deduplication
Lab: Implementing Storage Spaces
Lab: Implementing Data Deduplication
Installing and Configuring Hyper-V And Virtual Machines
Overview of Hyper-V
Installing Hyper-V
Configuring storage on Hyper-V host servers
Configuring networking on Hyper-V host servers
Configuring Hyper-V virtual machines
Managing Hyper-V virtual machines
Lab: Installing and configuring Hyper-V
Deploying and Managing Windows and Hyper-V Containers
Overview of containers in Windows Server 2016
Deploying Windows Server and Hyper-V containers
Installing, configuring, and managing containers
Lab: Installing and configuring containers
Overview of High Availability and Disaster Recovery
Defining levels of availability
Planning high availability and disaster recovery solutions with Hyper-V virtual machines
Backing up and restoring the Windows Server 2016 operating system and data by using Windows Server B
High availability with failover clustering in Windows Server 2016
Lab: Planning and implementing a high availability and disaster recovery solution
Implementing Failover Clustering
Planning a failover cluster
Creating and configuring a new failover cluster
Maintaining a failover cluster
Troubleshooting a failover cluster
Implementing site high availability with stretch clustering
Lab: Implementing a failover cluster
Lab: Managing a failover cluster
Implementing Failover Clustering With Windows Server 2016 Hyper-V
Overview of integrating Hyper-V in Windows Server 2016 with failover clustering
Implementing and maintaining Hyper-V virtual machines on failover clusters
Key features for virtual machines in a clustered environment
Lab: Implementing failover clustering with Hyper-V
Implementing Network Load Balancing
Overview of NLB clusters
Configuring an NLB cluster
Planning an NLB implentation
Lab: Implementing an NLB cluster
Creating and Managing Deployment Images
Introduction to deployment images
Creating and managing deployment images by using MDT
Virtual machine environments for different workloads
Lab: Using MDT to deploy Windows Server 2016
Managing, Monitoring, and Maintaining Virtual Machine Installations
WSUS overview and deployment options
Update management process with WSUS
Overview of PowerShell DSC
Overview of Windows Server 2016 monitoring tools
Using Performance Monitor
Monitoring Event Logs
Lab: Implementing WSUS and deploying updates
Lab: Monitoring and troubleshooting Windows Server 2016
20741: Networking with Windows Server 2016
Planning and implementing an IPv4 network
Planning IPv4 addressing
Configuring an IPv4 host
Managing and troubleshooting IPv4 network connectivity
Lab: Planning an IPv4 network
Lab: Implementing and troubleshooting an IPv4 network
Implementing DHCP
Overview of the DHCP server role
Deploying DHCP
Managing and troubleshooting DHCP
Lab: Implementing DHCP
Implementing IPv6
Overview of IPv6 addressing
Configuring an IPv6 host
Implementing IPv6 and IPv4 coexistence
Transitioning from IPv4 to IPv6
Lab: Configuring and evaluating IPv6 transition technologies
Implementing DNS
Implementing DNS servers
Configuring zones in DNS
Configuring name resolution between DNS zones
Configuring DNS integration with Active Directory Domain Services (AD DS)
Configuring advanced DNS settings
Lab: Planning and Implementing name resolution by using DNS
Lab: Integrating DNS with AD DS
Lab: Configuring advanced DNS settings
Implementing and Managing IPAM
Overview of IPAM
Deploying IPAM
Managing IP address spaces by using IPAM
Lab: Implementing IPAM
Remote Access in Windows Server 2016
Overview of remote access
Implementing Web Application Proxy
Lab: Implementing Web Application Proxy
Implementing DirectAccess
Overview of DirectAccess
Implementing DirectAccess by using the Getting Started Wizard
Implementing and managing an advanced DirectAccess infrastructure
Lab: Implementing DirectAccess by using the Getting Started Wizard
Lab: Deploying an advanced DirectAccess solution
Implementing VPNs
Planning VPNs
Implementing VPNs
Lab: Implementing a VPN
Implementing Networking for Branch Offices
Networking features and considerations for branch offices
Implementing Distributed File System (DFS) for branch offices
Implementing BranchCache for branch offices
Lab: Implementing DFS for branch offices
Lab: Implementing BranchCache
Configuring Advanced Networking Features
Overview of high performance networking features
Configuring advanced Microsoft Hyper-V networking features
Lab: Configuring advanced Hyper-V networking features
Implementing Software Defined Networking
Overview of Software Defined Networking
Implementing network virtualization
Implementing Network controller
Lab: Deploying Network Controller
20742: Identity with Windows Server 2016
Installing and configuring domain controllers
Overview of AD DS
Overview of AD DS domain controllers
Deploying a domain controller
Lab: Deploying and administering AD DS
Managing objects in AD DS
Managing user accounts
Managing groups in AD DS
Managing computer objects in AD DS
Using Windows PowerShell for AD DS administration
Implementing and managing OUs
Lab: Managing AD DS objects
Lab: Administering AD DS
Advanced AD DS infrastructure management
Overview of advanced AD DS deployments
Deploying a distributed AD DS environment
Configuring AD DS trusts
Lab: Domain and trust management in AD DS
Implementing and Administering AD DS Sites and Replication
Overview of AD DS replication
Configuring AD DS sites
Configuring and monitoring AD DS replication
Lab: Implementing AD DS sites and replication
Implementing Group Policy
Introducing Group Policy
Implementing and administering GPOs
Group Policy scope and Group Policy processing
Troubleshooting the application of GPOs
Lab: Implementing a Group Policy infrastructure
Lab: Troubleshooting Group Policy infrastructure
Managing User Settings with Group Policy
Implementing administrative templates
Configuring Folder Redirection, Software Installation, and Scripts
Configuring Group Policy preferences
Lab: Managing user settings with GPOs
Securing Active Directory Domain Services
Securing domain controllers
Implementing account security
Implementing audit authentication
Configuring managed service accounts
Lab: Securing AD DS
Deploying and Managing AD CS
Deploying CAs
Administering CAs
Troubleshooting and maintaining CAs
Lab: Deploying and configuring a two-tier CA hierarchy
Deploying and Managing Certificates
Deploying and managing certificate templates
Managing certificate deployment, revocation, and recovery
Using certificates in a business environment
Implementing and managing smart cards
Lab: Deploying and using certificates
Implementing and Administering AD FS
Overivew of AD FS
AD FS requirements and planning
Deploying and configuring AD FS
Overview of Web Application Proxy
Lab: Implementing AD FS
Implementing and Administering AD RMS
Overview of AD RMS
Deploying and managing an AD RMS infrastructure
Configuring AD RMS content protection
Lab: Implementing an AD RMS infrastructure
Implementing AD DS Synchronization with Microsoft Azure AD
Planning and preparing for directory synchronization
Implementing directory synchronization by using Azure AD Connect
Managing identities with directory synchronization
Lab: Configuring directory synchronization
Monitoring, Managing, and Recovering AD DS
Monitoring AD DS
Managing the Active Directory database
Active Directory backup and recovery options for AD DS and other identity and access solutions
Lab: Recovering objects in AD DS
Exam Information
Exam 70-740: Installation, Storage and Compute with Windows Server 2016
| | |
| --- | --- |
| Exam Objective | Percentage of Exam |
| Install Windows Servers in Host and Compute Environments | 10-15% |
| Implement Storage Solutions | 10-15% |
| Implement Hyper-V | 20-25% |
| Implement Windows Containers | 5-10% |
| Implement High Availability | 30-35% |
| Maintain and Monitor Server Environments | 10-15% |
Exam 70-741: Networking with Windows Server 2016
| | |
| --- | --- |
| Exam Objective | Percentage of Exam |
| Implement Domain Name System (DNS) | 15-20% |
| Implement DHCP | 25-30% |
| Implement IP Address Management (IPAM) | 20-25% |
| Implementing Network Connectivity and Remote Access Solutions | 15-20% |
| Implementing Core and Distributed Network Solutions | 15-20% |
| Implementing Advanced Network Infrastructure | 15-20% |
Exam 70-742: Identity with Windows Server 2016
| | |
| --- | --- |
| Exam Objective | Percentage of Exam |
| Install and Configure Active Directory Domain Services (AD DS) | 20-25% |
| Manage and Maintain AD DS | 15-20% |
| Create and Manage Group Policy | 25-30% |
| Implement Active Directory Certificate Services (AD CS) | 10-15% |
| Implement Identity Federation and Access Solutions | 15-20% |