This certification demonstrates that the recipient is proficient in managing organization settings and
resources, planning and management of the mail architecture, planning and implementation of a
hybrid configuration and migration – all while securing the messaging environment.
Why Take The Microsoft Certified: Messaging Administrator Associate (Intermediate) MS-203 Exam?
The need AI tech professionals is going to increase dramatically in the near future and passing the
exam will help you secure an excellent position in the industry.
Increase My Salary:
The average salary for someone who holds a Microsoft Certified: Messaging Administrator
Associate (Intermediate) certification is around $98,000 / year.
Be Part Of The Team:
Manage the messaging infrastructure for your organization, plan and manage the mail
architecture while providing a secure messaging environment.
Abilities Validated By The Certification:
Manage organizational settings and resources
Plan and manage the mail architecture
Plan and implement a hybrid configuration and migration
Secure the messaging environment
Recommended Knowledge & Experience:
While it's not required, it is recommended that the candidate already has their Microsoft
365 Fundamentals Certification before taking the exam.
Exam Topics & Scoring:
Exam MS-203: Microsoft 365 Messaging
MANAGE ORGANIZATIONAL SETTINGS AND RESOURCES (30-35%)
Plan and manage organizational settings
manage Global Address List (GAL)
manage Offline Address Book (OAB)
manage address book policies
manage email address policies
configure organizational sharing
manage add-ins
Plan and manage client access
plan namespaces
configure virtual directories and URLs
configure global Outlook Web App (OWA) policies
configure Autodiscover
troubleshoot client access connectivity problems
manage Exchange certificates lifecycle
Manage recipient resources
manage archive mailboxes
manage resource mailboxes
manage groups (Distribution, Security, and Office 365)
manage mailboxes
manage mailbox permissions
configure mailbox policies
manage shared mailboxes
evaluate license options
manage mail users
Manage mobile devices
configure mobile device mailbox policies
configure mobile authentication methods
configure and manage Outlook mobile
manage mobile device access
configure and manage ActiveSync
2. PLAN AND MANAGE THE MAIL ARCHITECTURE (20-25%)
Plan and configure transport architecture
plan connectors
create and configure connectors
configure connectors between tenants
Manage mail flow
manage transport rules
manage domains
manage hybrid mail flow
Troubleshoot mail flow
validate inbound and outbound mail flow
trace a message
analyze a message trace
analyze message headers
analyze Non-Deliverable Reports (NDRs)
investigate transport logs
monitor Mail Flow
3. PLAN AND IMPLEMENT A HYBRID CONFIGURATION AND MIGRATION (20- 25%)
Plan and implement a hybrid environment
evaluate and configure hybrid free/busy access (NOT: ADFS, WAP and Not Azure AD Connect, IdFix because they belong to the Modern Desktop Admin)
decide between Exchange Classic Hybrid and Exchange Modern Hybrid
manage the Edge server role
configure Organization Configuration Transfer (OCT)
plan and configure the environment by using the Hybrid Configuration Wizard (HCW)
deploy the Exchange Hybrid Agent
Plan and implement migration
evaluate migration methods, including cutover, staged, PST Imports, IMAP, G-Suite
configure migration endpoints in Microsoft 365, including tenant-to-tenant
manage mailbox migration request batches
migrating from non-Microsoft messaging systems (NOT: not on-prem solutions)
troubleshoot mailbox migration
Manage public folders
move content between public folder mailboxes
create additional public folder mailboxes
implement public folder Top Level Hierarchy (TLH)
implement mail-enabled public folders
plan and configure public folders
manage hold and discovery for public folders
plan a public folder migration to Microsoft 365
4. SECURE THE MESSAGING ENVIRONMENT (20-25%)
Manage role-based permissions
manage role groups
assign user accounts to admin roles
manage user roles
manage a delegated Role-based Access Control (RBAC) setup
plan RBAC roles for eDiscovery
Manage message hygiene using Exchange Online and Office 365 Advanced Threat Protection (ATP)
plan for message hygiene
manage connection filters
configure malware filters
configure spam filters
monitor quarantined items
manage protection for phishing
plan and configure Spam Confidence Levels (SCL)
configure and manage ATP safe attachments
configure and manage ATP safe links
configure and manage ATP anti-phishing
Manage compliance
configure retention policies
configure data loss prevention policies
configure and analyze audit logs
manage journal rules
manage content search
manage litigation, in-place, and retention holds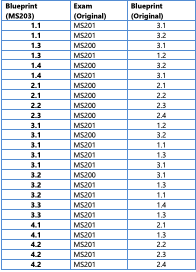 Prepare for your exam:
The best way to prepare is with first-hand experience. Taking advantage of the opportunities that
Phoenix TS provides will assist you with gathering all the knowledge and skills you'll need for
certification.
Phoenix TS Microsoft Certified: Messaging Administrator Associate (Intermediate) – Learning Pathways
Course Overview Phoenix TS' 5-day instructor-led Microsoft 365 Messaging training and certification boot camp in Washington, DC Metro, Tysons Corner, VA, Columbia, MD or Live Online examines the key elements of Microsoft 365 messaging administration, including message transport and mail flow, messaging security, hygiene, and compliance, messaging infrastructure, and hybrid messaging. This course is designed […]
1 – https://www.globalknowledge.com/us-en/resources/resource-library/articles/top-paying-certifications/?utm_source=Sales-Enablement&utm_medium=White-Paper&utm_campaign=&utm_content=Top-Paying-Certs