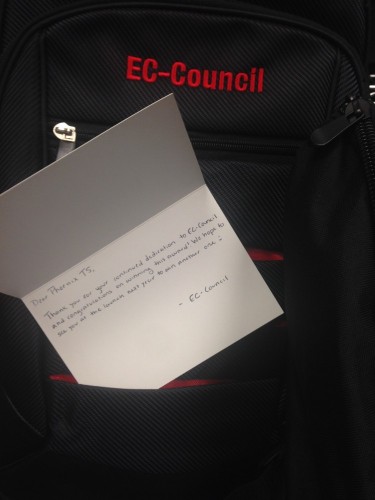 Phoenix TS is an EC-Council Circle of Excellence Winner Again!
Our dedication to providing top quality training in EC-Council's line of certifications has put us on their list of the EC-Council Accredited Training Center "Circle of Excellence" awards. We have won this award 5 times in our company's history. Additionally, we have earned the ATC of the Year Award for 2014. 
Training centers receive the EC-Council ATC "Circle of Excellence" Award by demonstrating an exemplary ability to deliver EC-Council courses. When judging centers, EC-Council takes the following criteria into account:
Student feedback
Pass rate percentages
Number of students trained in a year
Phoenix TS offers the following EC-Council training courses on our schedule:
Classes marked with a ✔ are GUARANTEED TO RUN!
| | | | |
| --- | --- | --- | --- |
| CEH Training Course | 11/19/19 - 12/11/19, 8 days, 6:00PM – 10:00PM | Odenton, MD | Sold Out! ✔ |
| CEH Training Course | 12/02/19 - 12/06/19, 5 days, 8:30AM – 4:30PM | Columbia, MD | Register ✔ |
| CHFI Certification Training Course | 12/09/19 - 12/13/19, 5 days, 8:30AM – 4:30PM | Tysons Corner, VA | Register |
| CEH Training Course | 12/09/19 - 12/13/19, 5 days, 8:30AM – 4:30PM | Chambersburg, PA | Sold Out! ✔ |
| CHFI Certification Training Course | 12/16/19 - 12/20/19, 5 days, 8:30AM – 4:30PM | Columbia, MD | Register ✔ |
| CEH Training Course | 01/06/20 - 01/17/20, 10 days, 6:00PM – 10:00PM | Columbia, MD | Register |
| CEH Training Course | 01/13/20 - 01/17/20, 5 days, 8:30AM – 4:30PM | Columbia, MD | Register |
| CHFI Certification Training Course | 01/27/20 - 01/31/20, 5 days, 8:30AM – 4:30PM | Tysons Corner, VA | Register |
| CEH Training Course | 01/27/20 - 01/31/20, 5 days, 8:30AM – 4:00PM | Oklahoma City, OK | Sold Out! ✔ |
| EC-Council ECSA v10 Certification Training Course | 02/03/20 - 02/07/20, 5 days, 8:30AM – 4:30PM | Tysons Corner, VA | Register |
| CHFI Certification Training Course | 02/03/20 - 02/07/20, 5 days, 8:30AM – 4:30PM | Columbia, MD | Register |
| CEH Training Course | 02/10/20 - 02/14/20, 5 days, 8:30AM – 4:30PM | Tysons Corner, VA | Register |
| CEH Training Course | 02/10/20 - 02/14/20, 5 days, 8:30AM – 4:00PM | Columbia, MD | Register ✔ |
| EC-Council ECSA v10 Certification Training Course | 02/10/20 - 02/14/20, 5 days, 8:30AM – 4:30PM | Columbia, MD | Register |
| CEH Training Course | 02/24/20 - 02/28/20, 5 days, 8:30AM – 4:30PM | Columbia, MD | Register |
| CEH Training Course | 02/24/20 - 02/28/20, 5 days, 8:30AM – 4:00PM | Montgomery, AL | Sold Out! ✔ |
| CEH Training Course | 03/30/20 - 04/03/20, 5 days, 8:30AM – 4:30PM | Tysons Corner, VA | Register |
| CEH Training Course | 04/06/20 - 04/10/20, 5 days, 8:30AM – 4:30PM | Columbia, MD | Register |
| CEH Training Course | 04/20/20 - 05/01/20, 10 days, 6:00PM – 10:00PM | Columbia, MD | Register |
| CHFI Certification Training Course | 04/27/20 - 05/01/20, 5 days, 8:30AM – 4:30PM | Tysons Corner, VA | Register |
| CHFI Certification Training Course | 05/04/20 - 05/08/20, 5 days, 8:00AM – 5:00PM | Columbia, MD | Register |
| CEH Training Course | 05/11/20 - 05/15/20, 5 days, 8:30AM – 4:30PM | Tysons Corner, VA | Register |
| CEH Training Course | 05/18/20 - 05/22/20, 5 days, 8:30AM – 4:30PM | Columbia, MD | Register |
| EC-Council ECSA v10 Certification Training Course | 06/01/20 - 06/05/20, 5 days, 8:30AM – 4:30PM | Tysons Corner, VA | Register |
| EC-Council ECSA v10 Certification Training Course | 06/08/20 - 06/12/20, 5 days, 8:30AM – 4:30PM | Columbia, MD | Register |
| CEH Training Course | 06/22/20 - 06/26/20, 5 days, 8:30AM – 4:30PM | Tysons Corner, VA | Register |
| CEH Training Course | 06/22/20 - 07/03/20, 10 days, 6:00PM – 10:00PM | Columbia, MD | Register |
| CEH Training Course | 08/17/20 - 08/28/20, 10 days, 6:00PM – 10:00PM | Columbia, MD | Register |