< BLOG
Training and Certification
3 Reasons You Are Not in Project Management
January 11, 2017
Ashley Neu
It may seem like a good idea to take your current resume, reword it, fill it with buzzwords found throughout project management job descriptions, and then submit it to every open position you can find. Well, it isn't.
Avoid this common error that yields little to no success. Instead find out what you need to become successful.
1. You don't have an Education in Project Management
It is essential to gain an education in project management. The skills and knowledge gained through your education helps your resume stand out to hiring managers. In fact, a recent study found that an astounding 97% of organizations believe project management is critical to business performance and organizational success.
They also pay well. Glassdoor states the median salary for project managers is $91,440 in the U.S.
In order to ensure you earn a chance to interview for a project management position you will need to decide what course of action is best for you. Don't just blindly apply to different schools or programs because one Google search tells you a certain Project Management program is renowned.
Consider your current role and the benefits that come with it. Does your employer offer tuition reimbursement or training funds? 49% of organizations have a project management training program in place. Are you currently working full-time or are you still a student? Regardless of your situation, there are excellent options for you.
College degrees hold more weight than certifications because degrees are very specific and directly correlate with career aspirations. Some programs worth researching are Penn State's Masters of Project Management and George Mason's Masters in Management. However, college degrees are also costly and time consuming.
You might be hesitant to invest necessary time and finances in becoming a full-time student again. That is normal and okay. There are other ways to prove you have the management skills and business savvy to lead a team.
Certifications are more cost effective and less time consuming alternatives t0 college. Certifications also showcase your ongoing dedication to the field. Depending on the certification, you will need to continuously pursue professional development units (PDUs) to maintain your credential. PDUs offer you the opportunity to stay current in the field. Some ways you can earn PDUs are by attending formal/informal training courses, reading current literature, listening to different podcasts and enrolling in webinars.
2. You Lack Project Management Certifications
One certification that proves useful in the project management field is PMP®. The Project Management Institute's Project Management Professional (PMP)® certification is held in high esteem across many industries. However, PMI® recommends prospective students meet certain prerequisites before enrolling. If you do not meet these prerequisites don't panic, there are other options.
Not sure which course you should take next? Check out this Project Management Career Path. You can enter your experience level and field of interest to see what course can take your career to the next level.
You can take an Introduction to Project Management course instead of PMP®. This course is open to everyone and you can still earn a certification in project management. The Introduction to Project Management course will teach you foundation level practices and techniques that can be built on through other courses or work experience.
These are not the only two certifications in project management out there. Here are a list of vendors that offer project management courses. These courses can all be applied to the project management in different ways. Fields such as IT, Risk management, and Information Security all have needs for project managers.
Both Scrum and Agile are well-known project management techniques that you can become well versed in through the completion of a scrum or agile certification training course.
Showcase your project management certification to prove you have the knowledge necessary to complete projects on-time within scope and budget.
Obtaining a Six Sigma Yellow, Green, Black, or Master Black Belt prepares you with the correct knowledge and skills to enhance process quality by limiting defects.
This course will benefit these professionals by providing a thorough and fundamental comprehension of all elements of the project management lifecycle.
3. You Have No Project Management Experience
Internships and entry-level jobs are plentiful and look great on resumes. Before you apply for an internship or entry-level job make sure it is a position in the same sphere of interest you wish to hold a career in. There is little value in working as an intern for an energy company if you aspire to start a career in fashion.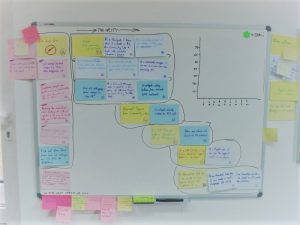 This experience will better equip you to manage a team throughout the lifecycle of a major project down the road. You will leave your internship or entry-level position with grassroot knowledge that directly impacts managerial level scheduling and planning.
Completing an internship or holding an entry-level position proves to hiring managers that you know what it takes to complete a project and how you to apply concepts learned while earning your certification or degree.
You can also take more of an untraditional route to gain experience in project management. Look into what non-profit organizations are in your area and see if they need volunteers to manage some of their work. For instance, Ashoka is currently looking for a volunteer event coordinator. Holding this position can boost your resume while giving you experience.
Start Your Project Management Career
You earned an education and gained necessary experience in the field. Now you are ready to start a career as a Project Manager. One way you to maximize your chances of employment is by reaching out to a staffing agency that focuses on project management. An example of these type of firms are:
These agencies have relationships with different businesses that are looking to hire specifically project management leads and giving your resume and information to them will up your chances at landing a new job. You can also rely on these agencies resume and cover letter advice.
Other places you can look for employment are Linkedin, Indeed and Glassdoor. These job boards allow you to not only search for and apply to jobs, but they also let employers look at your resume and experiences even if you do not apply to positions within the company. This can be handy if you missed a job posting that interests you.
Not all project manager positions are titled project manager. For instance Event Coordinators, IT Administrators, Risk Managers and Strategists all need project management skills to be successful.
subscribe by email
Stay Ahead
Related Posts