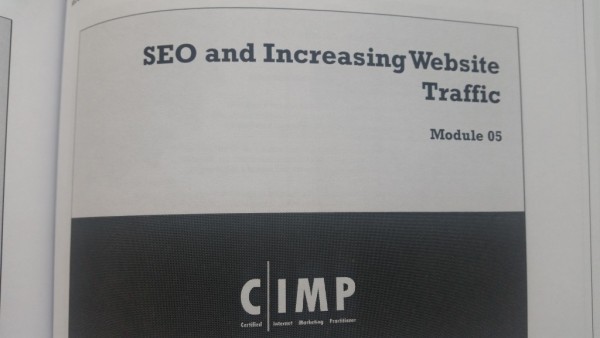 CIMP Study Series: SEO
In the third part the study series for EC-Council's Certified Internet Marketing Practitioner (CIMP) exam, I address search engine optimization (SEO). I covered the importance of web analytics in the blog post before.
This post covers the topics of SEO ranking factors, PPC vs SEO, why design matters, bad practices, and why you shouldn't hate on Google.
When did search engines start?
According to the CIMP textbook, a search engine is a "web-based tool used to find information for specified keywords over the World Wide Web." This simple definition does not nearly come close to encompassing the full description of a search engine's capability today for the average person. For example, if you're unsure about a recipe, what a warning light means on your car, or need a recommendation for a great burger in the heart of Baltimore, Google (and other search engines) connects you to the right information.
Search engines developed about two decades ago. Google changed the game with their search engine in 1998. In the time between then and now, major changes revolutionized the flow of information.
The history of SEO is important, but only to a certain extent. It is good to see how far we have come and the countless changes implemented by Google, Bing, and Yahoo which in turn alter marketing strategies. The world of SEO changes constantly and marketing professionals must always prepare to adapt.
SEO Ranking Factors
The list provides an overview of variables that contribute to a website's search engine rankings.
Having a clear site map

An XML site map displays the website architecture for visitors and search engines bots that crawl the site. You can also submit the site map to Google and Bing.

Ensuring validated code by checking it against WC3 standards
Blog posting length

This is an area of debate. The average person's attention span is short, but posts of 750 words or longer tend to rank very well.

Regular updates

A stagnant and outdated website doesn't bode well for rankings and doesn't help earn customer trust. You don't need to update the site every day with a blog post, but consistency matters. One very good blog post or update a month makes a difference.

Keywords in the title, H1 and H2 tags

Integrate the page, blog post titles, H1 and H2 tags with relevant keywords.

Meta tags

All links, pages, and images should have appropriate title tags describing the content.

Internal and external linking

Internal links promote and connect other relevant pages on a website. Linking externally to credible sources shows you have the information and correct resources to source articles.

Keyword density

Don't overload a page, blog post, page title, header tags, or other pieces of content with repetitive keywords.
SEO vs. PPC
Pay-per-click ads through Google AdWords and other advertising platforms can produce good results and qualified sales leads through proper management and ad placement.
SEO practices and blogging contributes to a strong long term marketing strategy can generate higher rankings for less money than the PPC approach.
Marketing professionals use both techniques to drive traffic to websites and bring in sale leads.
Why Design Matters
You may not think an antiquated website impacts rankings, but the navigation, overall user interface, and an aging design makes a huge difference. Let's say my consumer spends a large majority of time on Facebook, ESPN, CNN, and other major websites. Those websites keep their websites updated with modern designs and friendly UIs. If your website appears outdated, this can detract from visitor trust.
How long till you see real results?
Results are not instant. With a solid SEO strategy, consistent content production, and online engagement, it is reasonable to expect realistic results by six months. Create a list of relevant keywords for the overall business and important pages. It's a good idea to check the rankings manually on a monthly basis to monitor the change in results Google and the other secondary search engines.
You may say Google doesn't rule the search engine world. What about Bing, Yahoo, and even DuckDuckGo? You're correct, but don't dismiss the power of Google.
Don't hate on Google
There are a number of people who share a similar disdain for Google due to privacy concerns connected to their advertising practices with users.
Well, Google controls over 75% of the search engine market share. Yes, they experienced a slight dip in their dominance recently due to Firefox using Yahoo! search by default, but 75% is a whole lot ignore. Put your hate aside, listen to Google's suggestions for ranking well, and you won't need to worry about manual penalities. On the contrary, you could deal with ranking issues and traffic dropping off due to bad SEO tactics.
Bad SEO is a No No
In a previous life, I stepped into a world of bad SEO. When first learning about online marketing and SEO, seeing the proper methods for effective rankings, I couldn't understand the obsessive optimization techniques implemented to produce short term results. Marketing agencies reproduced eeririly similar websites for hundreds of the same clients with keyword dense pages, URLs with locations attached, duplicate content run amok, empty outdated blog pages, and other techniques that worked initially for high rankings, but end up hurting a website's long term results.
This example highlights an area where a website and business suffers. Investing in bad practices leads to manual penalties from Google where you disappear from first page results, the first 95 pages, or get permanently blacklisted.
You can't realistically blame Google or other search engines for these penalities? Yes, some times penalities given out for unknown incoming links may seem unjust, but bad SEO practices such as high keyword density on pages, duplicate content, location specific URLs, unnecessary link dropping off-site, and lame guest blog posts, are your own fault. Instead of investing in good link building practices, collaborating with clients to create valuable content on a consistent basis, you can choose the alternative lazy route.
As Google and other search engines continue to develop sophisticated technology, good original content will hold value for strong rankings.
What do you think the most important factor in earning high search engine rankings?
Subscribe to the TechRoots Blog