8570.01M Update: CySA+ Officially Added To Baseline Certs
When CompTIA's Cybersecurity Analyst (CySA+) certification was released in February 2017, many who follow the Department of Defense Directive 8570.01M had the same question. "Will the CySA+ certification become an 8570 cert?" We now know that YES, with the October 8570.01M update; CySA+ is now an official baseline certification for the IA Workforce Improvement Program (DoD 8570).
While this post will reference DoD 8570.01M, which is the acting DoD directive until the manual for 8140 is completed. If you aren't familiar with the DoD 8570.01M or DoD 8140 mandates, take a minute to read through this blog post before reading any further: DoD 8140: How Does It Affect You?
8570.01M Update
On October 13, 2017, the CompTIA Cybersecurity Analyst (CySA+) certification was officially added to the 8570 baseline certification guide. The certification is considered one of the baseline certifications for 5 different levels and job roles.  In the picture below you will see all the approved baseline certifications to include CySA+, which has been highlighted so that you can find where the certification has been added more easily. You can also view the official certification chart on the IASE website.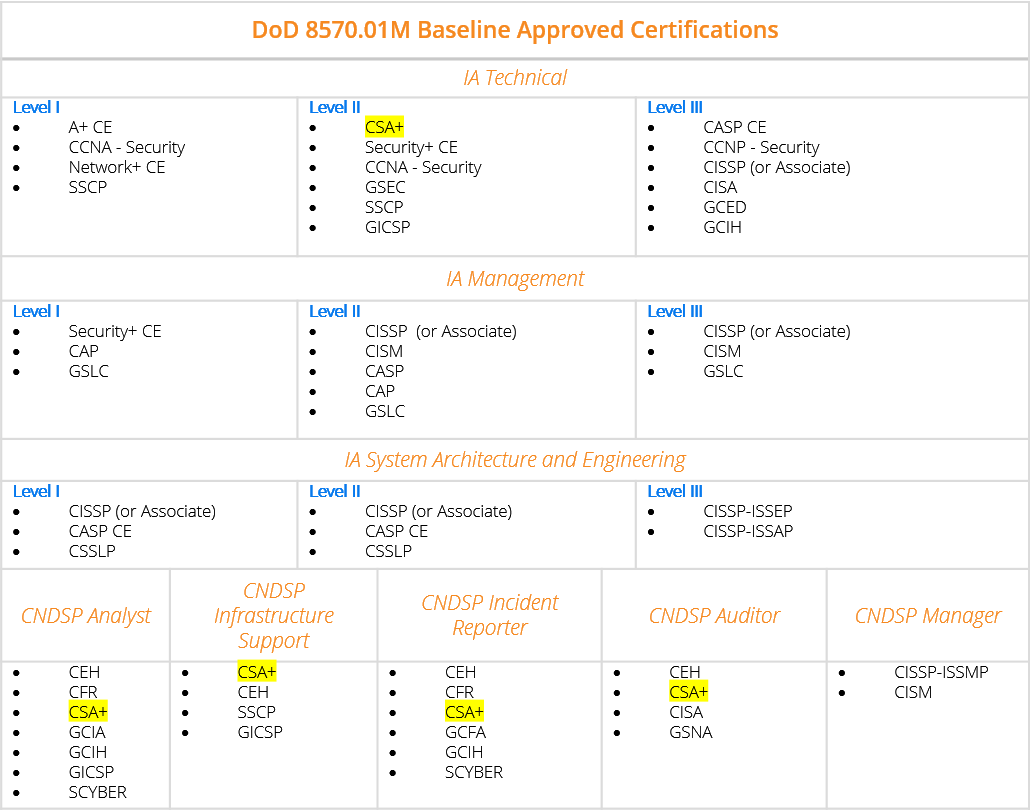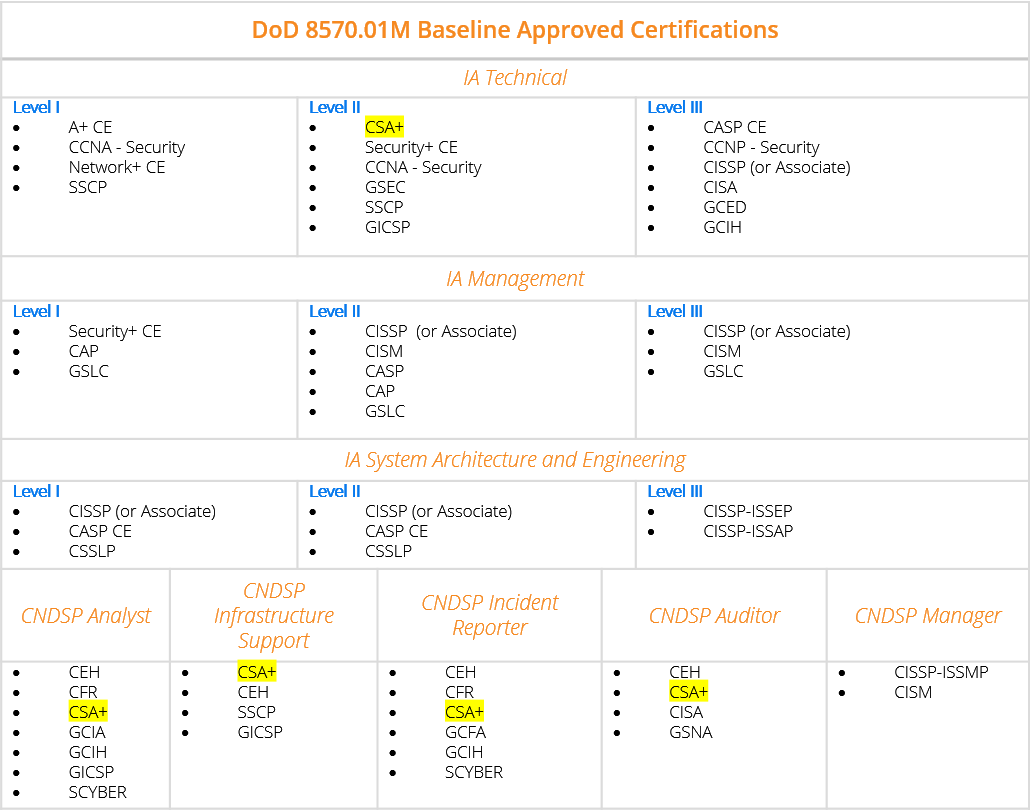 As you can see, the levels and job roles that the CySA+ certification has been added to since the 8570.01M update has taken place are all roles in which an individual must have a good amount of knowledge and skills as a security analyst.
The CySA+ certification is an intermediate level certification that builds on baseline skills and knowledge. Which is why CySA+ is not found in any of the first levels of baseline certifications on the 8570.01M update.
Ready To Earn CySA+ Certification? View Our Upcoming Courses
Classes marked with a ✔ are GUARANTEED TO RUN!
| | | | |
| --- | --- | --- | --- |
| CompTIA Cybersecurity Analyst (CySA+) Certification Training | 04/22/19 - 04/26/19, 5 days, 8:30AM – 4:30PM | Columbia, MD | Register ✔ |
| CompTIA Cybersecurity Analyst (CySA+) Certification Training | 04/22/19 - 04/26/19, 5 days, 8:30AM – 4:30PM | Online | Register ✔ |
| CompTIA Cybersecurity Analyst (CySA+) Certification Training | 04/22/19 - 04/26/19, 5 days, 8:30AM – 4:30PM | Fort Huachuca, AZ | Sold Out! ✔ |
| CompTIA Cybersecurity Analyst (CySA+) Certification Training | 05/06/19 - 05/10/19, 5 days, 8:30AM – 4:30PM | San Diego, CA | Register |
| CompTIA Cybersecurity Analyst (CySA+) Certification Training | 05/13/19 - 05/17/19, 5 days, 8:30AM – 4:30PM | Colorado Springs, CO | Register |
| CompTIA Cybersecurity Analyst (CySA+) Certification Training | 05/13/19 - 05/17/19, 5 days, 8:30AM – 4:30PM | San Diego, CA | Register |
| CompTIA Cybersecurity Analyst (CySA+) Certification Training | 05/13/19 - 05/17/19, 5 days, 8:30AM – 4:30PM | San Diego, CA | Sold Out! |
| CompTIA Cybersecurity Analyst (CySA+) Certification Training | 05/20/19 - 05/24/19, 5 days, 8:30AM – 4:30PM | Fort Gordon, GA | Register |
| CompTIA Cybersecurity Analyst (CySA+) Certification Training | 06/03/19 - 06/07/19, 5 days, 8:30AM – 4:30PM | Tysons Corner, VA | Register |
| CompTIA Cybersecurity Analyst (CySA+) Certification Training | 06/03/19 - 06/07/19, 5 days, 8:30AM – 4:30PM | Columbia, MD | Sold Out! |
| CompTIA Cybersecurity Analyst (CySA+) Certification Training | 06/03/19 - 06/07/19, 5 days, 8:30AM – 4:30PM | Online | Sold Out! |
| CompTIA Cybersecurity Analyst (CySA+) Certification Training | 06/10/19 - 06/14/19, 5 days, 8:30AM – 4:30PM | San Diego, CA | Register |
| CompTIA Cybersecurity Analyst (CySA+) Certification Training | 07/15/19 - 07/19/19, 5 days, 8:30AM – 4:30PM | Tysons Corner, VA | Register |
| CompTIA Cybersecurity Analyst (CySA+) Certification Training | 07/22/19 - 07/26/19, 5 days, 8:30AM – 4:30PM | Columbia, MD | Register |
| CompTIA Cybersecurity Analyst (CySA+) Certification Training | 07/22/19 - 07/26/19, 5 days, 8:30AM – 4:30PM | Online | Register |
| CompTIA Cybersecurity Analyst (CySA+) Certification Training | 07/29/19 - 08/02/19, 5 days, 8:30AM – 4:30PM | Tysons Corner, VA | Register |
| CompTIA Cybersecurity Analyst (CySA+) Certification Training | 07/29/19 - 08/02/19, 5 days, 8:30AM – 4:30PM | Fort Gordon, GA | Register |
| CompTIA Cybersecurity Analyst (CySA+) Certification Training | 08/05/19 - 08/09/19, 5 days, 8:30AM – 4:30PM | Colorado Springs, CO | Register |
| CompTIA Cybersecurity Analyst (CySA+) Certification Training | 08/12/19 - 08/16/19, 5 days, 8:30AM – 4:30PM | San Diego, CA | Register |
| CompTIA Cybersecurity Analyst (CySA+) Certification Training | 08/26/19 - 08/30/19, 5 days, 8:30AM – 4:30PM | Tysons Corner, VA | Register |
| CompTIA Cybersecurity Analyst (CySA+) Certification Training | 09/09/19 - 09/13/19, 5 days, 8:30AM – 4:30PM | Columbia, MD | Register |
| CompTIA Cybersecurity Analyst (CySA+) Certification Training | 09/09/19 - 09/13/19, 5 days, 8:30AM – 4:30PM | Online | Register |
| CompTIA Cybersecurity Analyst (CySA+) Certification Training | 09/16/19 - 09/20/19, 5 days, 8:30AM – 4:30PM | Tysons Corner, VA | Register |
| CompTIA Cybersecurity Analyst (CySA+) Certification Training | 10/07/19 - 10/11/19, 5 days, 8:30AM – 4:30PM | Tysons Corner, VA | Register |
| CompTIA Cybersecurity Analyst (CySA+) Certification Training | 10/21/19 - 10/25/19, 5 days, 8:30AM – 4:30PM | Columbia, MD | Register |
| CompTIA Cybersecurity Analyst (CySA+) Certification Training | 10/21/19 - 10/25/19, 5 days, 8:30AM – 4:30PM | Online | Register |
| CompTIA Cybersecurity Analyst (CySA+) Certification Training | 10/28/19 - 11/01/19, 5 days, 8:30AM – 4:30PM | Fort Gordon, GA | Register |
| CompTIA Cybersecurity Analyst (CySA+) Certification Training | 11/04/19 - 11/08/19, 5 days, 8:30AM – 4:30PM | Colorado Springs, CO | Register |
| CompTIA Cybersecurity Analyst (CySA+) Certification Training | 11/18/19 - 11/22/19, 5 days, 8:30AM – 4:30PM | Tysons Corner, VA | Register |
| CompTIA Cybersecurity Analyst (CySA+) Certification Training | 12/02/19 - 12/06/19, 5 days, 8:30AM – 4:30PM | Columbia, MD | Register |
| CompTIA Cybersecurity Analyst (CySA+) Certification Training | 12/02/19 - 12/06/19, 5 days, 8:30AM – 4:30PM | Online | Register |
| CompTIA Cybersecurity Analyst (CySA+) Certification Training | 12/16/19 - 12/20/19, 5 days, 8:30AM – 4:30PM | San Diego, CA | Register |